Hindu activists 'attack India cafe over immoral activity'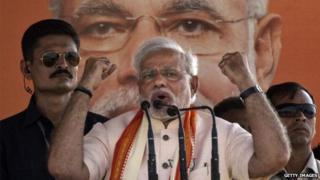 Activists from India's governing party have vandalised a coffee shop, complaining of immoral behaviour.
Members of the BJP's youth wing were shown on TV waving the party flag and smashing windows, chairs and tables.
Local BJP chief V Muralitharan said the youths had merely gone to check whether "TV video of young boys and girls behaving inappropriately" was accurate.
Some social commentators have accused hard-line Hindu groups of engaging in "moral policing".
They have called on Prime Minister Narendra Modi, the BJP's national leader, to rein in the groups.
Calicut police commissioner AV George told BBC Hindi that a case of trespass, rioting and other offences had been registered against the alleged vandals.
He said the perpetrators had fled the scene, but added: "We will get them soon."
Last week there were reports of young BJP activists raiding a hotel in the city of Chennai to try to shut down a beer promotion.