India woman killed in 'witch hunt'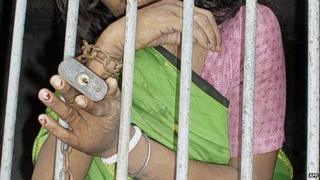 An Indian woman has been killed by relatives who suspected her of practising witchcraft, police said.
They said Dukalheen Bai died after she was stripped, beaten and tortured for hours by her brother-in-law Nakul Patel and several other family members.
Mr Patel is believed to have accused her of making his son ill by practising witchcraft on him.
Witch hunts targeting women are common in parts of India and a number of those accused are killed every year.
The latest incident took place in Bemetara district in the central state of Chhattisgarh. Mr Patel is among 10 people, including five women, have arrested in connection with the killing. He is not thought to have made any public comment as yet.
"My mother was beaten up very badly. She kept screaming but the entire village just watched. I protested, but couldn't save my mother," Dukalheen Bai's son Ashok Patel told BBC Hindi.
Branding women as witches is particularly prevalent among tribal communities in India.
Experts say superstitious beliefs are behind some of these attacks, but there are occasions when people - especially widows - are targeted for their land and property.
Earlier this month, athlete Debjani Bora, a javelin thrower who has won several gold medals, told the BBC how she was tied up and severely beaten after being branded a witch in her village in the north-eastern state of Assam.