India robbers dig 125-ft tunnel to loot bank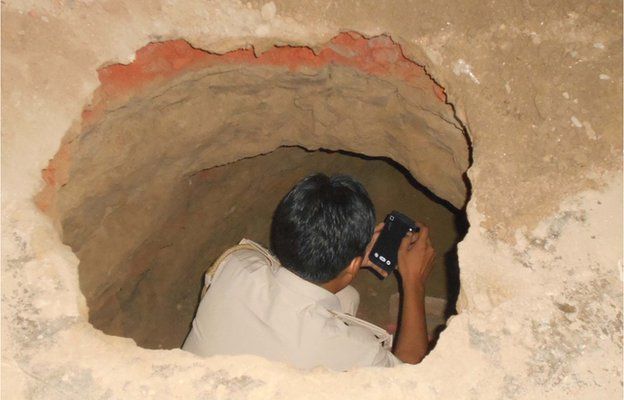 Police in northern India are searching for thieves who robbed a bank by digging a 125-foot (40-metre) tunnel straight into the vault late at night.
They stole cash, jewellery and other valuables worth hundreds of thousands of dollars from a branch of the Punjab National Bank in Haryana.
The tunnel started in an empty house nearby, police said.
Correspondents say the thieves appeared inspired by popular Bollywood film Dhoom which depicts a similar robbery.
Bank officials at the government-owned bank in Gohana town were stupefied when they discovered the huge hole in the ground on Monday morning.
Police say they believed the robbery took place on Saturday night.
The robbers emptied 77 of more than 350 lockers, the Press Trust of India (PTI) quoted Superintendent of Police in Sonepat district Arun Nehra as saying.
A special team has been set up to investigate the robbery but no arrests have been made so far, he said.
Bank officials said the exact value of the stolen goods was yet to be estimated.
Bank manager Devender Malik said "it appeared the robbery was carried out after meticulous planning by the robbers which may have stretched over several days".