India's Gujarat state braces for Cyclone Nilofar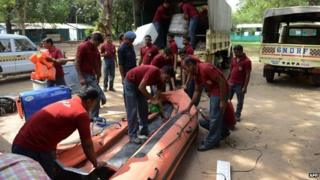 Authorities in India have begun evacuating tens of thousands of people as a powerful cyclone heads for the western coast.
Cyclone Nilofar, categorised as "severe" by weather forecasters, is expected to hit Gujarat state on Saturday morning.
India's Meteorological Department has predicted the storm will bring winds of up to 130km/h (80 mph).
Rescue and relief teams have been deployed and the army is on stand-by.
A super-cyclone in 1999 killed more than 10,000 people in eastern Orissa state.
Earlier this month, Cyclone Hudhud pounded India's eastern coast, killing more than 40 people, causing extensive damage and prompting the evacuation of some 350,000 people.
Cyclone Nilofar is also expected to pass around 250km (155 miles) from Karachi, Pakistan's biggest city, local weather officials said.
Pakistan's National Disaster Management Authority has told officials to prepare to evacuate villages along the coast and close beachside restaurants.
Authorities in Gujarat's coastal Kutch district, where the cyclone is expected to make landfall, have begun evacuating more than 30,000 people from the area, senior local official MS Patel told the AFP news agency.
Heavy rainfall is expected in Kutch and Saurashtra districts and the sea along the coast in Gujarat will be "rough to very rough", the weather department said in a statement.
Fishermen out at sea have been asked to return to the coast, and authorities have put the coastal villages on alert.
Media reports say 200 relief centres have been set up and schools and colleges shut for two days in the coastal districts.
Cyclonic storms are more common on India's eastern coast and in Bangladesh - they routinely hit between April and November, causing deaths and widespread damage to property.
---
India cyclones
October 2014: More than 40 people killed when Cyclone Hudhud pounded Orissa and Andhra Pradesh.
October 2013: Cyclone Phailin hits Orissa and Andhra Pradesh, prompting the evacuation of more than 500,000 people.
December 2011: Cyclone Thane hits the southern state of Tamil Nadu, killing dozens of people.
1999: Super-cyclone hits Orissa, killing more than 10,000 people.