Three held over India 'tunnel' bank robbery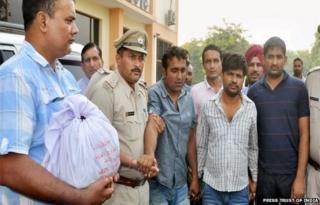 Indian police say they have arrested three men suspected of robbing a bank by digging a 125-foot (40-metre) tunnel straight into the vault.
The thieves stole cash, jewellery and other valuables worth hundreds of thousands of dollars from a branch of the Punjab National Bank in Haryana.
The tunnel started in an empty house nearby, police said.
The body of the home-owner, who police say masterminded the raid, has been found in his car.
Police say he took his life by consuming poison.
It is not clear why the owner took his own life, although the police say he may have done so because he feared arrest.
Senior police official AK Rao told the Press Trust of India news agency that 24kg of gold and silver jewellery, and 60,000 rupees ($976; £610) had been recovered from the three men.
The police are looking for one more suspect.
"The owner was the mastermind of the robbery. He gave the idea to the three men, who executed the task. He was also a co-accused in the case on charges of criminal conspiracy," police officer Arun Nehra said.
The three men - a medical laboratory worker, a property dealer and a farmer - live in Sonepat district where the bank is located, the police said.
Police say none of the men had a criminal record, and questions are being raised about how such "novices" acquired the expertise to carry out such an elaborate heist.
Media reports say the thieves used iron rods and spades to dig the tunnel, and managed to leave the telephone cables and water lines undamaged.
The robbers worked for 40 days on digging the tunnel and emptied 77 of more than 350 lockers on Saturday night, police said. The exact value of the stolen goods was yet to be estimated.
Bank officials at the government-owned bank in Gohana town were stupefied when they discovered the huge hole in the ground on Monday morning.
Correspondents say the thieves appeared inspired by popular Bollywood film Dhoom which depicts a similar robbery.