India hospital riddled with rats hires pest control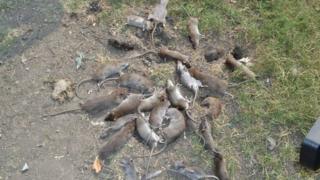 A government hospital in the central Indian city of Indore is trying to rid itself of tens of thousands of rats overrunning its premises.
Pest control workers say they have killed more than 2,500 rats at the Maharaja Yeshwantrao hospital so far.
Nearly 70,000 rats are believed to be hiding in about 8,000 rat-holes, city commissioner Sanjay Dubey told the BBC.
The hospital hired a pest control firm after instances of rodents damaging hospital equipment and biting patients.
Correspondents say the standard of cleanliness in many government hospitals is poor.
"Rats had become a massive problem here. We've launched this campaign to rid the hospital of rats because they are present here in such large numbers," Mr Dubey who ordered the rat-extermination drive told BBC Hindi.
Sanjay Karmakar, chairman of the Lakshmi Fumigation and Pest Control Limited, which was given the job of killing the rats, said workers were leaving food like prawns, jaggery [solidified cane sugar], chickpeas and apples laced with poison near rat-holes to kill the rodents.
The cost of ridding the hospital of rats has been put at 5.5m rupees ($89,511; £56,035).
"Rats are very intelligent animals. If they see a rat dropping dead after eating a food item, they would not touch it again. That's why we have to keep changing the menu daily," Mr Karmakar said.
He said that once the operation is complete, the hospital will be free of rats and other pests for several years. The same company says it killed 10,000 rats at the hospital 20 years ago
The 400-bed Maharaja Yeshwantrao is one of the biggest government hospitals in Indore. Its outpatient department is visited by nearly 1,000 people every day.
Some Hindu religious leaders have opposed the drive to kills rats because Ganesha, the elephant god, rides a mouse.