Tagged Amur falcons return to India's Nagaland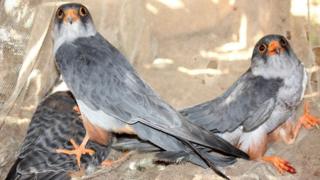 Two of the three Amur falcons tagged with satellite tracking chips last year have returned to the north-eastern Indian state of Nagaland.
The birds, which come to roost every year during their flight from Mongolia to Africa, are back at Doyang lake.
The return of the chipped birds has given scientists valuable details about their journey to Africa and then back to their homeland in Mongolia.
The falcons travel almost 22,000km (13,670 miles) every year.
Amur falcons are the longest travelling raptors in the world and come to Doyang every year in their millions.
Forest officials say the birds are yet to be located, but satellite data shows their presence in the area.
The two falcons - named Naga and Pangti - have returned to Nagaland almost after a year and even though their location is not known yet, "a small ceremony was organised to mark their return", Nagaland's Principal Chief Conservator of Forests M Lokeswara Rao told the BBC.
"Everybody - from scientists to locals of Wokha district - is extremely excited, everyone was asking what's their position," Mr Rao said.
After the birds were tagged last year, they flew over Assam, Bangladesh, Bay of Bengal, southern India, Arabian Sea and reached South Africa.
From there, some went to Botswana, some to Tanzania. After spending a few months there, they started returning to their homeland in Mongolia and on the way rested for a few days in Nagaland.
Mr Rao says scientists have had "partial knowledge" of their flight paths, but "this is the first time we know the entire route from Mongolia to Nagaland to Africa and back to Mongolia".
A third bird named Wokha, which was similarly tagged with the satellite chip, is still in South Africa. "That means, either the bird has died there or the chip has fallen from Wokha's body," added Mr Rao.
Scientists say Amur Falcons leave their homeland to avoid the freezing temperatures in Mongolia and south-eastern Siberia during the winter, but Mr Rao says "we need to find out whether that's the only reason for them to leave Mongolia or there is something else".
Until recently, Naga tribesmen used to hunt thousands of Amur falcons for meat.
But last year, after a vigorous campaign by wildlife activists, they pledged to protect the bird and since then, not a single bird has been hunted in the area.