Indian media: Modernising the armed forces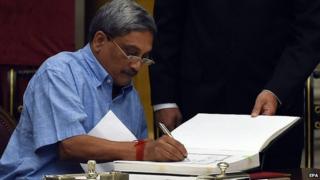 The Indian papers focus on the tough challenge facing India's new defence minister - modernising the armed forces.
Former Goa Chief Minister Manohar Parrikar was appointed defence minister on Sunday in a cabinet reshuffle.
Many papers feel Mr Parrikar will have to contend with an outdated armed forces and root out the corruption that has plagued defence deals in the past.
In comments after his appointment, he promised to speed up defence deals and ensure transparency.
"Whatever will be there will be transparent and fast-processed; that is my specialty," The Indian Express quotes Mr Parrikar as saying.
Experts say India's armed forces face shortages of weapons, fighter jets and submarines to counter the growing military rise of neighbouring China.
Defence deals, such as the procurement of 126 Rafale fighters from France, haven't come through despite being signed over two years ago.
The military's plans to buy anti-tank missiles, infantry fighting vehicles, helicopters, transport aircraft and other military hardware are also pending.
The new defence minister must bolster the armed forces with the smooth processing of such deals, papers say.
The Deccan Chronicle says Mr Parrikar's "clean image" and "bold decision-making" as Goa's chief minister will help revive defence.
"Mr Parrikar has been chosen not merely for his administrative skills and clean image, but also for being a leader who can take bold decisions," the Deccan Chronicle says.
The Asian Age echoes similar sentiments, saying Mr Parrikar has the reputation of a "doer" and his decision on defence deals will be "vital" to India's growth.
The First Post website says the defence minister will have to "break the bureaucratic stranglehold" to end "deficiency of arms, ammunition and equipment".
"Will the defence minister be able to break the bureaucratic stranglehold over the defence services and restore to them their due dignity? This would be one of his major challenges in his new job," the website says.
Popular defence columnist Ajai Shukla, meanwhile, warns that lack of funds may affect speedy acquisition of new weapons.
"Mr Parrikar will be constrained by limited funds since the government's primary ambition to boost the economy allows for only modest increments to defence spending…While fast-tracking procurement sounds good in a manifesto, the embarrassing truth is that our pockets are empty," he writes in the Business Standard.
He advocates increasing the operational capacity of the Indian Air Force's existing fleet.
Tiger curbs crime
In sports news, Indian cricket authorities have selected a 19-member team for the upcoming tour to Australia, reports say.
Batsman Virat Kohli will lead the team in the first Test as captain Mahendra Singh Dhoni is recovering from a thumb injury, The Times of India reports.
The team will have "a good choice of pacemen to pick from" in Umesh Yadav, Varun Aaron, Ishant Sharma, Mohammed Shami and Bhuvneshwar Kumar, the paper says.
An extra opening batsman, KL Rahul, has also been selected and middle order batsman Suresh Raina has made a comeback, the paper reports'
And finally, a tiger that that has reportedly been "roaming" in areas near the northern city of Lucknow has been keeping criminals indoors, the Deccan Herald reports.
The police say criminals have stopped stepping out at night, resulting in a 70% decline in crime.
"Obviously, both criminals, to some extent, and the wild cat are nocturnal creatures. Criminals now fear for their lives at nights and avoid venturing out," the paper quotes a police official as saying.
BBC Monitoring reports and analyses news from TV, radio, web and print media around the world. For more reports from BBC Monitoring, click here. You can follow BBC Monitoring on Twitter and Facebook.