Indian media: Preserving Nehru's legacy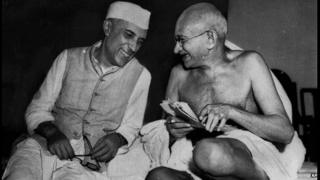 Media in India are highlighting the legacy of Independent India's first Prime Minister, Jawaharlal Nehru, on his 125th birth anniversary.
Nehru was born in the northern Indian town of Allahabad, but his family was originally from Kashmir.
He played a central role in the negotiations over Indian independence and finally became the first PM of the country in 1947.
Much of India's domestic and foreign policy was based on Nehru's ideas in the early years of India's independence.
On his birth anniversary, papers and experts are paying tributes to the leader and also discussing the importance of preserving his legacy.
"The memory of great men often fades with times: The Gandhi generation has gone and the Nehru generation is passing rapidly. It is, therefore, important to preserve the legacy of these remarkable leaders so that future generations remain aware of their contribution to achieving and consolidating our dearly won freedom," MP Karan Singh writes in the Hindustan Times.
Columnist Inder Malhotra says "the Mahatma (Gandhi) was India's liberator and Jawaharlal Nehru, its moderniser as well as founder of its secular and 'socialistic' democracy".
Politics over legacy
However, some media reports say that the Congress party is hoping that the 125th birth anniversary celebrations of Nehru will boost the party's "sagging morale".
Nehru was a member of the Congress and its current vice-president Rahul Gandhi is his great grandson.
The party recently suffered a "humbling defeat" at the hands of ruling Bharatiya Janata Party.
The Economic Times says the Congress party is utilising the occasion of Nehru's birth anniversary 'to rally round non-NDA [BJP-led ruling National Democratic Alliance] parties on a platform raising the pitch of secularism".
"The battle over Jawaharlal Nehru's legacy escalated today with Congress launching a sharp but veiled attack on Prime Minister Narendra Modi, accusing him of seeking to destroy his secular vision and spreading 'poison of communalism'," the report adds.
Meanwhile, the BJP said the Congress was "using Nehru's birth anniversary to divide society", The Deccan Chronicle reports.
And finally, Chilika Lake in eastern state of Orissa has been declared as "Destination Flyway" by the UN's World Tourism Organisation (UNWTO) "because of its natural treasure and bio-diversity", The Business Standard reports.
The water body hosts about 211 bird species, largest Irrawaddy dolphin population, 217 fish species and more than 30 migratory species, the report adds.
BBC Monitoring reports and analyses news from TV, radio, web and print media around the world. . You can follow BBC Monitoring on Twitter and Facebook.