Indian stuffed toy tigers used to scare elephants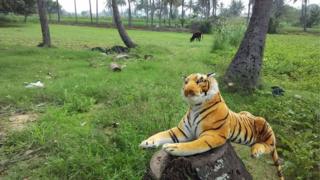 Farmers in the southern Indian state of Tamil Nadu have placed life-sized toy tigers in their fields in an effort to scare away marauding elephants.
They say that the toys have certainly helped keep monkeys at bay, but the elephants still advance without fear.
The stuffed tigers are being placed in fields in the Krishnagiri district.
While elephants are worshipped by many, shrinking habitats have led to increased conflict between humans and some of India's 26,000 wild elephants.
The farmers of Krishnagiri decided to buy the stuffed toy tigers costing 1,100 rupees ($17; £11) each and place them "strategically" in the fields growing coconut and sugarcane, among other crops, to keep away marauding herds of elephants from the neighbouring Bannerghatta forests.
"But it has really not made an impact yet. Some elephants have trampled over the toy tigers. We are still persisting in keeping these toys in the fields," says Ramakrishna.
However, fellow farmer Shiva Kumar said the stuffed toys "help in warding off the monkeys" who steal coconuts.
"The toys have helped me save 1,000 coconuts this season."
Wildlife official Vinay Luthra said the elephants were moving outside their habitats to look for water and, therefore, entering inhabited villages and damaging crops.