India court library ban on women 'unconstitutional'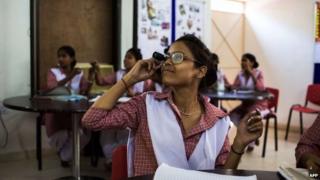 A court in northern India says it is against the country's constitution for female students to be barred from a main university library.
Several thousand female undergraduates at Aligarh Muslim University in Uttar Pradesh are being barred from entering the Maulana Azad Library.
The University's Vice-Chancellor has reportedly argued that female students would attract a lot of young men.
He has also argued that young women can order books online instead.
The Allahabad High Court addressed the issue after a petition was filed by a law intern, supported by the Human Rights Law Network (HRLN).
A lawyer with HRLN, Smriti Kartikeya, told the BBC that access to the library was a basic right for all students, regardless of gender, religion or caste.
The court said that if there were not enough seats available for female students, the university needed to make provision to accommodate them.
About 10,000 young people study as undergraduates at Aligarh Muslim University, many of them female. Post-graduate female students are allowed access to the library.
'Seating already limited'
In the past, the Vice-Chancellor of the University, Lt Gen Zameeruddin Shah, has defended the ban.
He reportedly argued that seating inside the library was already limited and, if female undergraduates were given access, more male students would flock to the library as well.
He has also argued that the library is 3km from the women's undergraduate college and female students are vulnerable to sexual harassment on the journey.
Female students are allowed to place online orders for books in the library.
The ban has been condemned by some women's groups and politicians.
The judges called on General Shah to reply to the court by November 24.