Sydney reception for India PM Modi after G20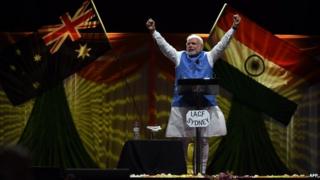 Prime Minister Narendra Modi has addressed a large Indian community at a reception in Sydney during his current visit to Australia, the first by an Indian leader in 28 years.
Some 20,000 people attended the meeting in Sydney's Olympic park.
Mr Modi arrived in Australia last week to participate in the G20 summit in Brisbane.
He will shortly address a joint sitting of the Australian parliament in the capital, Canberra.
Separately, Indian mining company Adani won support from the Indian government and the Australian state of Queensland on Monday to help build a $7bn (£4.4bn) coal mine, rail and port project.
Adani signed a memorandum of understanding for a $1bn loan from a state-run bank Indian bank for the mine in Queensland, which it aims to build by the end of 2017. Australia has approved the coal project, despite concern over its potential environmental impact.
'Modi Express'
Chants of "Modi, Modi" filled the arena as he took the stage in Sydney's Olympic park on Monday.
During his speech, Mr Modi stressed on the "shared values" between India and Australia, stressing on the two countries' strong democratic traditions.
"Without democracy do you think I would be here?" he asked to loud cheers from the audience.
Mr Modi also spoke about his government's plans to continue economic development of India and promised changes to allow Australians to simplify visa procedures.
"I know that behind this affection lies expectations. Yes, we want to create the India you are dreaming of," Mr Modi told the audience.
He said he saw "no reason why India should stay behind" and appealed to Indians living abroad to invest in the country and create more jobs for youth.
"We want people from across the world to invest in India, to be a part of 'Make in India' campaign.
"We are changing laws to make investment easier in India," he added.
Before leaving for Sydney on Monday, Mr Modi addressed Australian business leaders in Brisbane and said they could expect improved investment opportunities in India.
"Good governance is the starting point of change and it is important to business as it is to ordinary citizens. You will begin to find a difference in India," he was quoted as telling the businessmen.
A special train called Modi Express, carrying more than 200 passengers from Melbourne to Sydney, was flagged off on Sunday by an Australian minister.
"It just shows the strength of India-Australia relationship even if India beats us in Cricket World Cup 2015. His visit is very significant," Victorian Multicultural Minister Matthew Guy said.
"It's great to have Modi in Australia. There is lot of respect for the Indian leader not only in Indian diaspora but also the broader Australian community. We are very happy to have him here."
Meanwhile, a group of protestors in Sydney has called on Mr Modi to end the conflict in the disputed region of Kashmir.
Kashmir, claimed by both India and Pakistan in its entirety, has been a flashpoint for more than 60 years and the South Asian rivals have fought two wars and a limited conflict over the region.
Mr Modi, who led his BJP party to a massive win in the summer's general election, received a rapturous welcome from thousands of Indian-Americans at New York's Madison Square Garden during his visit to the US in September.