India sterilisation: Drugs may have been contaminated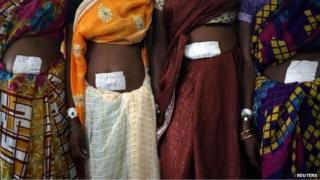 Drugs given to 15 women who died after sterilisation surgery could have been contaminated, an official in the Indian state of Chhattisgarh has told the BBC.
A state health official said early tests and circumstantial evidence indicated traces of zinc phosphide - a substance used in rat poison.
The women were at a government health camp. The doctor who carried out the operations denies negligence.
But the cause of death remains unclear as post-mortem results are awaited.
Last week, two pharmaceutical factory owners were arrested and drugs administered to the women during the procedure were sent for testing. The factory owners deny any wrongdoing.
"It appears that the drugs seized in the factory were contaminated with zinc phosphide which is a poison. Circumstantial evidence suggests that it might be the cause of patients falling ill after the drug was administered," senior state health official Alok Shukla told the BBC.
Mr Shukla said the symptoms displayed by some of the patients were similar to reactions to zinc phosphide - a toxic substance also used in rat poison. He added that other patients responded when administered the antidote to zinc phosphide.
But, he cautioned, that this was the "preliminary finding and detailed lab reports of the drugs and the viscera reports of patients are awaited - and that should establish the cause [of deaths]".
A lone doctor, along with his assistant, carried out tubectomies on 130 women at two separate camps last Saturday and Monday. Reports said he operated on 83 women in five hours in one of the camps - government rules say one surgeon should only perform 35 operations in a day.
Fourteen died after the first camp in Bilaspur and one after the second. More than 100 women were admitted to hospital.
The doctor had been earlier feted by the state government for conducting a record number of sterilisations.
He reportedly said he was put under pressure to carry out the operations and also accused the government of making him a scapegoat.
Sterilisation camps are frequently held to carry out mass tubectomy operations for women - or vasectomies for men - and health workers often receive money for each person they bring to a clinic to be sterilised.
The vast majority who take part are women, often poor and paid to be sterilised.
Explaining female sterilisation: Michelle Roberts, Health editor, BBC News website
Female sterilisation works by sealing the fallopian tubes that carry eggs from the ovaries to the womb. This can be done using clips, clamps or small rings or by tying and cutting the tube - this stops the egg and sperm meeting, so pregnancy can't occur.
Eggs will still be released from the ovaries as normal, but they will be reabsorbed by the body instead.
The procedure can be carried out via keyhole surgery or through an abdominal operation. It is very effective and straightforward when carried out correctly and by a highly trained professional. But it is not without risks. Most doctors will try to use the least invasive method.
It requires an anaesthetic and there is a risk of damage to other organs during the procedure. There can be bleeding and infection too. It should also be considered permanent - it is difficult to reverse.
Why do Indian women go to sterilisation camps?