Kim Kardashian India trip cancelled 'over visa issues'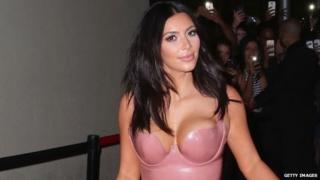 Reality TV star Kim Kardashian's India trip has been cancelled over visa issues, according to reports.
Kardashian was set to make an appearance on Bigg Boss, the Indian version of Big Brother, on Saturday.
The organisers of her visit confirmed to the BBC that Kardashian would not come to India, but refused to disclose the exact reason behind cancellation.
Kardashian is a household name in the UK and the US, best known for reality shows and a leaked sex tape.
Former Baywatch star Pamela Anderson and late reality TV star Jade Goody have also appeared on Bigg Boss.
The Colors channel, which hosts the show, said in a statement on Monday that the 34-year-old Kardashian would appear in Bigg Boss as a "guest to interact with the contestants".
The show is hosted by Bollywood superstar Salman Khan and has a huge following in India.
The eighth season of the programme started in October.