India tea workers kill owner in West Bengal pay dispute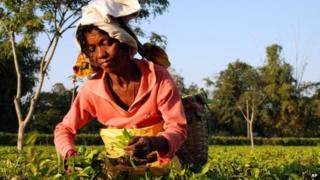 Workers at a tea plantation in eastern India have killed the owner during negotiations over a pay dispute.
The owner of the Sonali tea estate in West Bengal was dragged out of talks on Saturday. He died after being beaten up and stabbed by a crowd.
Police say Rajesh Agarwal had gone to pacify the workers who had reportedly not been paid for two or three months. Two men and five women have been held.
Many workers in India's tea plantations are malnourished and poorly paid.
Several incidents of attacks on tea executives by workers have been reported in recent years.
In 2012 a tea plantation owner and his wife were burned to death in the neighbouring state of Assam.
India is the world's second-largest tea producer after China.