'MufflerMan' Kejriwal creates Twitter buzz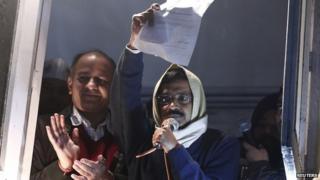 The leader of India's newest party, Arvind Kejriwal, is known for his austere lifestyle and simple clothes.
His anti-corruption Aam Aadmi Party (AAP) or the Common Man's Party won the Delhi state elections in December last year and he became the chief minister of the state.
But Mr Kejriwal quit after 49 days in power after an anti-corruption bill was blocked in the state assembly.
His short stint as the chief minister drew both praise and criticism.
His reluctance to use official cars and security made media headlines throughout his stint. But the choice of his clothes and footwear also made many curious.
In his interview to the BBC in February, Mr Kejriwal wore a rumpled sweater and his "bare feet were clad in well-worn sandals with a relaxed coating of dust".
He also wore his trademark muffler (scarf or neck-wrap) in most of his public appearances during his stint and even after resigning.
The AAP leader is once again campaigning to win the upcoming Delhi state assembly elections.
And the muffler is back again this winter - not only around his neck but also on Twitter.
The hashtag "MufflerMan" has been trending on Twitter for the last few days.
It has been used more than 250,000 times on the social networking website since 20 November.
The anti-corruption party is known for its innovative use of social media to initiate discussions and gain support.
Mr Kejriwal himself is one one of the most followed politicians on Twitter with close to three million followers.
This election season, his followers and supporters are using the popularity of the hashtag to win the support of Delhi's voters who are on Twitter.
The supporters have used film posters, cartoons and morphed photographs to make their campaign dramatic and eye-catching.
One such poster, based on a promotional picture of the Hollywood movie Abraham Lincoln: Vampire Hunter, has been retweeted thousands of times.
Reports say the anti-corruption party has denied that the poster is official. It says the poster has been made by one of the AAP's supporters on Twitter.
Many have used the picture and the hashtag to voice their support for the party.
Ankit Lal, who is credited with managing the AAP's social media team, tweeted that the Mufflerman hashtag has been completely "volunteer driven".
'Humble superhero'
Most of Mr Kejriwal's supporters see him as an anti-corruption crusader and believe that his return to power will put an end to graft.
The AAP's supporters have also used other Hollywood film posters to spread their message.
'Publicity stunt'
But not everybody is impressed with the MufflerMan hashgtag.
The Bharatiya Janata Party (BJP) also has a huge number of supporters on Twitter and they too are using the hashtag to criticise the AAP's "publicity stunt".
Some on Twitter believe that Mr Kejriwal's supporters have failed to explain why he did not complete his term.
The BJP and the AAP, however, have not given any official statement on this Twitter war.
BBC Monitoring reports and analyses news from TV, radio, web and print media around the world. You can follow BBC Monitoring on Twitter and Facebook.