Indian hanged girls' suicide over 'intimate relationship'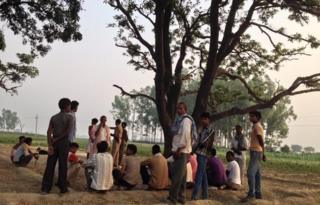 India's main Central Bureau of Investigation (CBI) has provided details on how two teenage girls found hanging from a tree in May had died.
The case sparked global outrage but on Thursday, investigators said the girls took their own lives and were not gang-raped and murdered.
In a press conference the CBI set out what they believe happened that night.
But rights groups say many unanswered questions remain and the girls' families have rejected their findings.
They have accused the investigating agency of "trying to fudge the case and save the accused".
CBI version
The lower-caste cousins, thought to have been 14 and 15, were found hanged from a mango tree on 28 May in Badaun district in the northern state of Uttar Pradesh.
Three men arrested in connection with the case and two policemen accused of "dereliction of duty" were freed on bail in September.
The elder girl had "an intimate relationship" with the main accused Pappu Yadav and her younger cousin was "facilitating the relationship", CBI officials told reporters late Thursday evening.
The girls had set up a meeting on the phone with Pappu Yadav and had gone to meet him at night when they were discovered by Nazru, a neighbour who is also the main witness in the case.
Following a scuffle with Nazru, Pappu Yadav went home and the girls fled into the fields.
The CBI, which studied "around 40 scientific reports" and "questioned over 200 people", believes the girls killed themselves out of shame and because they were afraid of facing their families.
Findings questioned
CBI officials, however, say they are unable to explain where the girls were between 9:30pm - when there were last seen by Nazru - and 5am - when their bodies were discovered. According to post-mortem reports, the girls are believed to have died around 2am.
The father of one of the girls asked "how is it possible that the girls could have committed suicide together from a tall tree"?
"The CBI has not explained why they would commit suicide. If we don't get justice we will kill ourselves," the Press Trust of India quoted him as saying.
Women's rights activists too have questioned the findings and are urging the CBI to continue investigating.
After the girls were found hanging, a local post-mortem examination initially confirmed multiple sexual assaults and death due to hanging.
But tests conducted since then on vaginal swabs and the girls' clothing have concluded the girls were not sexually assaulted, the CBI said.
Correspondents say the story has become murkier over the past few months, with officials raising questions over the testimony of the victims' families, accusing them of failing lie-detector tests.
Investigators also raised doubts about the credibility of the main witness Nazru amid reports that he had been paid money by the girls' families.