Indian media: Modi 'backs' Bangladesh land swap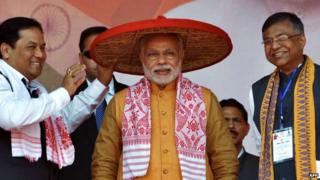 Indian newspapers see Prime Minister Narendra Modi as coming out in favour of a controversial land swap with Bangladesh to stem immigration, in a tough speech in the northeastern state of Assam.
Under a deal signed by Mr Modi's predecessor, Manmohan Singh, in 2011, the two countries would simplify their tortuous border, exchanging more than 100 tiny enclaves left over in each other's territory from the 1947 partition.
But the demarcation agreement is likely to result in Assam losing territory and still has not been ratified by parliament in Delhi, and had previously been opposed by Mr Modi's nationalist BJP.
Now, the prime minister has suggested he would be happy to see the move go ahead if it will help reduce illegal immigration from Bangladesh into Assam, the The Times of India reports.
"Believe in my word that land swapping deal will be done for a permanent solution to this problem of Assam," he told BJP activists in the state capital Guwahati.
While the prime minister made no firm commitment on the deal going ahead, the Deccan Chronicle felt his comments had "ended all speculation".
Mr Modi himself used rather tough language to describe the problem, claiming that the migrants were "destroying the state", the paper reported.
Assam has been experienced tension between Muslims and separatists from the ethnic Bodo group that has at times erupted in violence, and many local politicians blame it on migration from mainly Muslim Bangladesh - described by the Hindustan Times as "a demographic invasion".
'Strict but sensitive'
Several papers also highlight remarks by Mr Modi in which he chides the media and Bollywood film-makers for doing too little to improve the image of the police.
"The perception about the police in our country must change," The Pioneer quotes the prime minister as telling a national gathering of police chiefs held in Assam.
"The policemen do a lot of good things but it is only the negative things that are highlighted. I believe the government should also talk to film producers for not showing policemen in a good light."
Other suggestions made by Mr Modi on how to improve the force's reputation include ensuring that every police station has a website extolling its work, as well as e-books about the exploits of policemen killed in the line of duty - or "martyrs", according to the Deccan Herald.
Mr Modi's comments are part of his new plan to promote what he calls "SMART" policing - "S for strict but sensitive, M for modern and mobile, A for alert and accountable, R for reliable and responsive and T for techno-savvy and trained."
BBC Monitoring reports and analyses news from TV, radio, web and print media around the world. You can follow BBC Monitoring on Twitter and Facebook.