India's Orissa halts 'bicycle pump sterilisation surgery'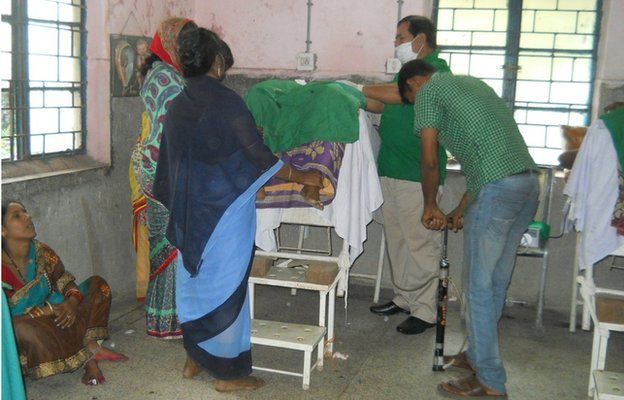 An Indian state has halted mass sterilisations at health camps after a doctor was found using a bicycle pump to inflate women's abdomens.
Dr Mahesh Chandra Rout, who used a pump on 56 women last Friday, told the BBC pumps were regularly used in Orissa.
State officials said carbon dioxide should be used for the procedure, and using pumps could be dangerous.
Last month, a separate scandal erupted over sterilisations when 15 women died after operations in another state.
Tainted drugs were blamed for the botched surgeries in Chhattisgarh state.
Sterilisation camps are frequently held to carry out mass tubectomy operations on women in India as part of an effort to control the country's booming population.
Reports that Dr Rout had used a bicycle pump to inflate the abdomen of women patients have sparked outrage since news emerged at the weekend.
During sterilisation surgery, the patient's abdomen needs to be inflated to create a space in which the surgeon can manoeuvre the instruments.
State officials said the use of atmospheric air, rather than controlled procedures using carbon dioxide, might lead to a range of health problems.
Orissa's senior health official Arati Ahuja said sterilisation surgeries in the state would now be held in fully equipped hospitals with all facilities.
"Doctors will be required to adhere to internationally accepted safety norms to prevent any possible infection," Ms Ahuja said.
Explaining female sterilisation: Michelle Roberts, Health editor, BBC News website
Female sterilisation works by sealing the fallopian tubes that carry eggs from the ovaries to the womb. This can be done using clips, clamps or small rings or by tying and cutting the tube - this stops the egg and sperm meeting, so pregnancy can't occur.
Eggs will still be released from the ovaries as normal, but they will be reabsorbed by the body instead.
The procedure is very effective and straightforward when carried out correctly and by a highly trained professional. But it is not without risks.
It requires an anaesthetic and there is a risk of damage to other organs during the procedure. There can be bleeding and infection too. It should also be considered permanent - it is difficult to reverse.
But Dr Rout said he had used pumps hundreds of times, and there had "never been a mishap or complication".
He said the pump was an option when a device called a carbon-dioxide insufflator needed for the surgery was unavailable.
The device delivers carbon dioxide under low pressure to open up a space within the body, usually to allow a sufficiently large viewing area.
"In the absence of carbon dioxide insufflators, bicycle pumps are an affordable and convenient alternative," Dr Rout told the BBC.
"The use of bicycle pumps to pump in air is a common practice not just here, but all over the state."
However, gynaecologists say that using a bicycle pump during surgery was fraught with risk.
"For one, bubbles can form in the vein which could prove fatal," said Dr Pradeep Panigrahi.
"For another, there is no way to regulate the pumping in of air if a bicycle pump is used for the purpose."
Reports say that a carbon dioxide insufflator was supplied to the government hospital in Angul in July, but it is yet to be put into use.