Twitter users 'frustrated' over Delhi rape allegation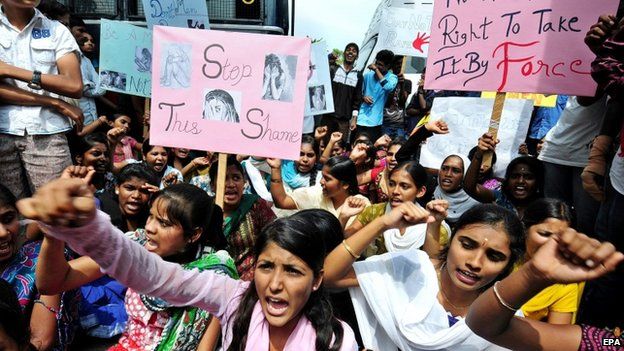 India's Twitter users are "frustrated" and "angry" after yet another allegation of rape in the capital, Delhi.
A woman on Saturday told the police that she was raped by a taxi driver after booking the cab using the popular Uber smartphone app.
The 26-year-old from Delhi told police she dozed off in the taxi and when she woke up the vehicle was parked in a secluded part of the capital.
Police said a medical examination had backed up her allegation. The driver of the taxi was arrested on Sunday.
The latest incident comes amid increasing concern at sexual violence against women in India.
Most Twitter users have been using #Delhishamedagain hashtag to express their concern and anger over the "appalling" state of women's safety in Delhi.
Some Twitter users feel that Uber had "failed" to verify the background of the driver and that led to yet another incident of rape in the national capital.
Some users feel that Delhi can "never" be safe for women due the lack of security and repeated cases of sexual assaults.
Prime Minister Narendra Modi's government is also facing severe criticism for failing to protect women in Delhi.
Mr Modi had promised to make Delhi safer for women during his poll campaigns earlier in the year. He had repeatedly attacked the previous Congress party-led government over several rape cases in Delhi.
But many say Mr Modi has failed to fulfil his promise in the first six months as PM.
Some Twitter users are reposting Mr Modi's poll campaign posters on the issue of women's safety.
The government, however, has promised to provide a speedy investigation into the case.
The driver was due to produced in the court on Monday.
BBC Monitoring reports and analyses news from TV, radio, web and print media around the world. You can follow BBC Monitoring on Twitter and Facebook.
Related Internet Links
The BBC is not responsible for the content of external sites.