Richard Verma: US Senate approves ambassador to India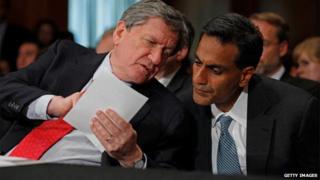 The US Senate has unanimously approved Richard Verma as the new US ambassador to India, the first Indian-American to step into that role.
Mr Verma succeeds Nancy Powell who resigned in March after a row over the arrest of an Indian diplomat in the US.
Mr Verma, who is a lawyer, has worked as a security adviser in the Senate.
His association with President Barack Obama goes back to 2008, when he helped prepare presidential debates for the then senator from Illinois.
The Press Trust of India news agency reports that Mr Verma will arrive in Delhi ahead of Mr Obama's visit, who will be the chief guest at India's Republic Day ceremony in the capital on 26 January.
Specialising in international law, Mr Verma has worked as senior national security adviser to Senate Majority Leader Harry Reid and advised on a key commission on the prevention of weapons of mass destruction.
His parents came to the US in the early 1960s, having lived through India's Independence movement and the partition in 1947.
Delhi and Washington have strong security and trade ties.
In September, Prime Minister Narendra Modi and President Obama called for a "new agenda" between their countries during Mr Modi's visit to America, his first since being elected this summer.