Indian Hindu groups banned from holding Christmas conversions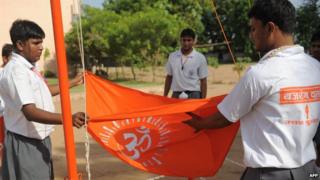 Police in India's Uttar Pradesh state have said they will not allow Hindu nationalist groups to hold a religious conversion ceremony on Christmas Day.
Mohit Agarwal, senior police official in Aligarh town where the ceremony is planned, said "strict action" would be taken against the organisers.
Conversions are legal if they do not involve force, fraud or inducement.
Last week, more than 50 Muslim families were reportedly converted to Hinduism against their will in the town of Agra.
Those who were converted were poor rag-pickers from a slum and many of them told the BBC they had been promised food ration cards if they attended the ceremony. They also said they had no idea they were going to be converted to Hinduism.
The Hindu groups denied the charges, saying the conversions had been voluntary.
The issue caused outrage in parliament, with opposition MPs accusing hardline Hindus of undermining India's unity and secular nature.
Critics say Hindu hardline groups are flexing their muscles under the new Bharatiya Janata Party (BJP) government, led by Prime Minister Narendra Modi.
Recently, a row broke out after government minister Niranjan Jyoti used an abusive term to refer to non-Hindus, by asking people at a public rally to choose between Ramzada (children of the Hindu God Ram) and Haramzada (bastards).
Mr Modi said he disapproved of her language but refused to sack her.
On Friday a BJP MP apologised in parliament after praising the killer of independence leader Mahatma Gandhi as a "patriot".
Strict warning
Aligarh has a substantial Muslim population and police said they would not give permission for any religious conversion ceremony to be held there as it could create a law and order problem.
"No event will be allowed on 25 December, whether it is conversion or anything similar to it," deputy inspector general of police in Aligarh Mohit Agarwal told reporters on Sunday.
Police have issued an order banning "assembly of four or more people" on the day and "strict action will be taken against any cadres of any party found involved in conversions", he added.
The Hindu hardline group Bajrang Dal has threatened to hold street protests if they are not allowed to go ahead with the ceremony and BJP MP Yogi Adityanath has said he plans to attend it.
Correspondents say religious conversions have been a topic of passionate debate in India for many years.
Hindu groups have often accused Christian missionaries and Muslims of converting poor, low-caste Dalits - formerly untouchables - and tribespeople with promises of a better life.
In the past few years, Hindu hardline groups have started organising reconversion rituals they call "ghar vapasi" - which means "returning home".
Critics say the conversions - and re-conversions - in most cases allegedly involve force, fraud or inducement.