India mourns Pakistan Taliban Peshawar school massacre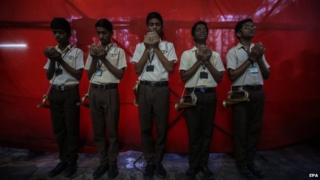 Indian schoolchildren are protesting against a Taliban attack at a school in Pakistan's Peshawar city that killed 132 children and nine staff.
They are holding a two-minute silence following an appeal by Prime Minister Narendra Modi.
Mr Modi condemned the "dastardly attack" and appealed to mourn the deaths as "a mark of solidarity".
World leaders voiced disgust at the Taliban's deadliest attack to date, which even its Afghan allies disowned.
Across schools in India, students participated in prayer sessions and observed a two-minute silence to show their support to Pakistani children.
"It's horrible what has happened. I cannot even begin to imagine what their families must be going through. I want to tell my friends in Pakistan that they should not bow to terror. They have to be strong. More and more should go to schools to defy this threat," Delhi school student Shivek Endlaw told the BBC.
"This kind of attack is worse than anything one can imagine," said 16-year-old Shruti Kapoor.
"I remember the strong words of Malala Yousafzai in her UN speech. She faced this kind of attack and came out stronger and braver than ever before. That's what I hope the children of Army Public School Peshawar will do. I wish them strength to face this crisis."
---
At the scene: Shilpa Kannan, BBC News, Modern School, Delhi
At the Modern School in Delhi, a special assembly is being held to remember the schoolchildren killed in the Peshawar attack.
The attack has touched many here. One group of children told me how they felt like terror had hit their neighbourhood.
Peshawar is just 800km (497 miles) from Delhi - much closer than several Indian cities like Mumbai or Bangalore.
Students here have strong words of support for Pakistani schoolchildren, but many are still in shock.
"We've had Pakistani schoolchildren visit us in Delhi many times through exchange programmes. They are just like us. They have dreams like us. They should be able to go to school without fear. We will support them in any way we can," said 17-year-old Chahat Kapila.
And teachers say they are worried about the impact of this horrific attack on children here.
"We had to reassure the children that schools are safe," the head teacher said.
"Every child, not just in Pakistan but anywhere in the world, has the right to education. No one should be able to take that away from them. Schools are a safe place where children can be fearless. We have to ensure that."
---
At a school in the western Indian city of Baroda, schoolchildren stood with black ribbons tied across their mouths and holding placards reading "Stop Terrorism", according to Reuters news agency.
Mr Modi telephoned his Pakistani counterpart Nawaz Sharif on Tuesday evening to express his deep grief and sorrow over the attack:
Tuesday's attack was carried out by seven Taliban attackers, all wearing bomb vests, Pakistan's army said.
The siege at Peshawar's Army Public School, which teaches boys and girls from both military and civilian backgrounds, lasted eight hours.
A total of 125 people were wounded, according to the army, before all seven attackers were killed. Hundreds of people were evacuated.
The Pakistani Taliban sought to justify the attack by saying it was revenge for the army's ongoing campaign against them. The school was chosen as a target, the militants said, because their families had also suffered heavy losses.