Indian media: Pakistan's war on terror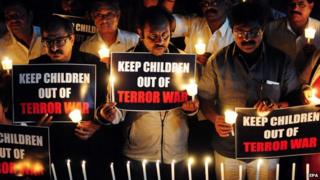 Indian papers urge Pakistan to learn lessons from the Peshawar attack to prevent such incidents in future.
A Taliban attack at a school in Peshawar on Tuesday killed 141 people, mostly children.
Gunmen went from class to class shooting the students in the Pakistani Taliban's deadliest attack to date.
Most Indian papers have strongly condemned the attack, urging people to stand with Pakistan in this hour of grief.
However, some editorial writers feel that Pakistan needs to reassess its strategy to fight terrorism.
"The Pakistani government must interpret the reaction of its citizens and those in India as nothing more than a plea to come to terms with the threat that terrorists of all stripes pose to their country," says the Hindustan Times.
The Deccan Herald argues that "the infrastructure of terrorism in Pakistan needs to be dismantled".
"A more comprehensive approach is needed, one that sees action against all forms of extremism and violence, whether directed against Pakistani nationals or others," it says.
The Hindu too says that "it will take more than a drive against a select group of militants to root out terrorism" from Pakistan.
"Decades of active encouragement by the Pakistani state and its security establishment to terrorism aimed at Afghanistan and India have engendered a high level of tolerance within sections of the Pakistani military, polity and society for such non-state actors," it says.
'Common challenge'
Some papers believe that India and Pakistan need to form a joint strategy to fight terrorism in the region.
"This shared moment of mourning also underscores a common challenge. New Delhi and Islamabad must resume bilateral talks and begin a process to put together a joint front against an enemy that stalks both countries and increasingly seeks out soft targets to spread fear," says The Indian Express in an editorial.
The Times of India supports trust-building measures between the citizens of the two countries.
"The Peshawar tragedy has united Indians and Pakistanis in grief. The bonds of insaniyat [humanity] among the two peoples must continue to grow," it says.
'Stop blaming India'
Most papers back Delhi and Islamabad to jointly fight terrorism, but argue that Pakistan needs to trust India and its efforts to fight terrorism.
"Pakistani strategists have long played the anti-India card to develop equities within the country and nurture non-state jihadi groups as 'assets'. This has to change," says the Hindustan Times.
The Hindu adds that Pakistan has to take a tough approach against militant groups operating on its soil.
"Unless the change comes in what Pakistan describes as its 'national ideology', in effect a fusion of religion with national security, militancy will continue to haunt the country," it says.
The Hindustan Times reiterates that Delhi will fully support Pakistan in its fresh war against terror groups.
"Terrorism can rarely bring countries together, but Pakistan must know that for all its misgivings about India, New Delhi has kept the eastern front quiet while Islamabad was focused on its west since 2001 - and that India will cooperate if sincere efforts to counter terrorism follow," it says.
BBC Monitoring reports and analyses news from TV, radio, web and print media around the world. You can follow BBC Monitoring on Twitter and Facebook.