India's Kerala state dilutes alcohol ban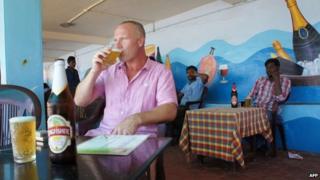 The government in the southern Indian state of Kerala has announced plans to dilute its earlier decision to ban the sale and consumption of alcohol.
Chief Minister Oommen Chandy said the decision was taken to attract tourists and protect jobs.
In August, the authorities said nearly 700 bars and some shops would be shut in a move towards total prohibition to tackle the state's drink problem.
Bar owners and hotels have challenged the order in court.
Kerala has India's highest per capita alcohol consumption at more than eight litres per person yearly. The national annual average for alcohol consumption is estimated to be about 5.7 litres per person.
Doctors and activists have highlighted rising alcohol abuse, blaming it for many road accidents and even marital breakdown. They say hospitals and rehabilitation centres in Kerala are packed with patients suffering from alcohol-related diseases.
In its August order, the government said only luxury hotels were allowed to serve alcohol and introduced more alcohol-free days. Sundays too were made dry days.
On Thursday, Mr Chandy said liquor stores would now remain open on Sundays and hotels would get license to sell light alcoholic beverages like wine and beer.
"Thousands of people have lost their jobs since the bars were shut down and 10 of them killed themselves," he added.
More than 20% of revenues in the state's annual budget come from alcohol sales and the ban has hit Kerala's 229bn-rupee tourism industry hard.
Tour operators say there have been several cancellations, especially conferences on weekends, since the ban was imposed.