India attack: Suspected rebels kill dozens in Assam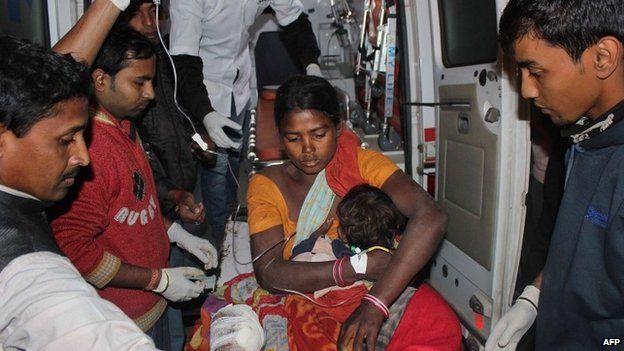 Separatist rebels have killed at least 62 people in remote villages of India's north-eastern Assam state, police say.
Women and children were said to be among the victims and there are fears the death toll could rise.
Police blame the attacks on the National Democratic Front of Bodoland (NDFB).
The NDFB wants an independent homeland for the ethnic group to be carved out of Assam. Tuesday's attacks took place in areas populated by non-Bodo people.
Prime Minister Narendra Modi and senior Assam officials condemned the raid.
Police said the rebels attacked the villages in Sonitpur and Kokrajhar districts late on Tuesday.
At least 25 people were killed and 10 others injured in Kokrajhar, police told the BBC.
Authorities have imposed an indefinite curfew in Sonitpur, where at least 37 people, including 10 women, were killed and 14 others were injured.
Those killed and injured were mainly tribespeople who worked in the local tea gardens, reports said.
Villagers who escaped the attacks told police that the armed rebels came on foot, forced open the doors of their huts and opened fire. Some villagers were pulled out of their houses and gunned down.
On Wednesday, police fired on angry tribespeople who surrounded a police station in Sonitpur, killing three protesters.
Reports said two Bodos were also killed by tribespeople in Karigaon village.
In the past, Bodo rebels have targeted local tribespeople along with Muslim settlers.
In May, 32 people belonging to the minority Muslim community were killed in two attacks in Kokrajhar and Baksa districts.
More than 100 Muslim migrants were killed in another such raid at Bansbari, a makeshift camp for displaced Muslims in 1993.
The Bodos now have an autonomous territorial council which one of their parties, the Bodoland People's Front (BPF), controls. But many feel migrants have taken over much of the land they traditionally occupied.
Assam has been plagued by ethnic clashes and separatist violence in recent years.
A number of rebel groups have been fighting the central authorities, demanding autonomy or independent homelands for the indigenous groups they represent.