K Balachander: Tributes paid to Indian filmmaker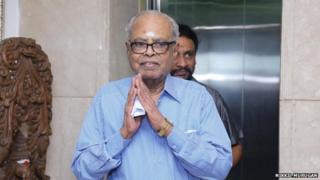 Tributes have been paid to award-winning Indian film director K Balachander, who has died in the southern city of Chennai.
Balachander, 84, was suffering from age-related ailments and died late on Tuesday. His funeral is scheduled to take place on Thursday, reports say.
Debuting with Neerkumizhi (Water bubble) in 1965, he directed more than 100 films in south Indian languages.
He crossed over into Bollywood with his hit 1981 film Ek Duuje Ke Liye.
Other memorable films included Arangetram, Aval Oru Thodarkadhai, Rajini, Apoorva Raagangal, Avargal and Aaina.
Balachander received India's prestigious Dadasaheb Phalke award in 2010.
Many film personalities have taken to social media sites to pay tributes to the director.
Filmmaker Ram Gopal Varma on Twitter described Balachander as a "path breaking director of all time".
Actor R Madhavan remembered Balachander as a warm person.
Bollywood director Madhur Bhandarkar said Balachander was "a genius storyteller".
India's chess champion Viswanathan Anand tweeted his "condolences to his family".
K Balachander
K Balachander, a graduate in zoology, began his career writing and directing plays in Chennai, then known as Madras.
He soon began to write scripts and direct Tamil films, ruffling traditional audiences with his modern social themes.
Balachander's films dealt with thorny caste, gender and political issues of the 1960s. Many of his films were also avowedly feminist.
Arangetram deals with poverty, prostitution and upper class morals, Avargal is a story of a divorcee who falls in love and Aval oru Thodarkathai is a tale of exploitation of a working woman in a big city.
Balachander was a left-leaning liberal and his films portrayed the underdog - Server Sundara dealt with a working class hero's life and Varumaiyin Niram Sivappu dealt with Marxism and joblessness.
Balachander was also known as a "star maker" who turned a number of Tamil industry actors into some of India's top stars - Kamal Hassan and Rajinikanth, for example, became pan-Indian stars, performing in films in Bollywood and different Indian languages.