India cold and fog cause Delhi travel chaos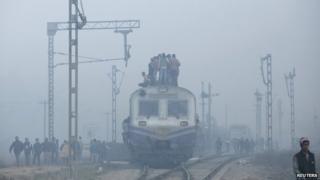 A cold snap and dense fog in Delhi, and parts of northern India have led to massive travel chaos with more than 100 trains and 150 flights delayed.
Visibility at the Delhi airport dropped to below 50 metres and dense fog also enveloped airports in Amritsar, Lucknow, Varanasi and Patna on Monday.
Road traffic in the capital city and on many main roads on Monday morning was crawling.
Traffic disruption caused by winter fog has become routine in northern India.
Reports said foggy conditions at the Delhi airport had resulted in 137 flights being delayed and 14 others cancelled by 10:30 (05:00 GMT).
Railway officials said 78 trains were running late owing to poor visibility and at least 20 others had been rescheduled.
On Sunday, Delhi recorded this season's coldest day with temperatures falling below 3C while the suburb of Gurgaon was at below 1C.
A number of cold-related deaths have also been reported.
Three homeless people have died in Delhi, reported the Press Trust of India while The Times of India said 25 people died overnight in the northern state of Uttar Pradesh.
Cold weather is also continuing in most parts of the northern states of Punjab, Haryana, Uttar Pradesh, Madhya Pradesh, Rajasthan and the Kashmir Valley.
The meteorological department has predicted that the cold and the dense fog will last at least until the end of the year.