Mumbai attack 'mastermind' detained again in Pakistan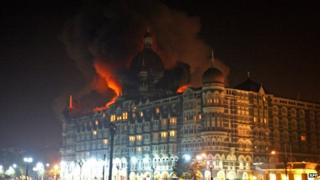 Pakistani police have detained the alleged Mumbai attacks mastermind in an unrelated kidnapping case, a day after a court ordered his release.
Zaki-ur-Rehman Lakhvi has spent six years in jail awaiting trial for the 2008 attacks, in which 165 were killed.
The government has been fighting a court decision to grant him bail.
Indian officials say Mr Lakhvi led the Pakistani militant group that carried out the attack, and have reacted angrily to the decision to free him.
Mr Lakhvi is among seven suspects who have been in jail awaiting trial for six years. Nine others have been charged in absentia.
Pakistan has not convicted anyone suspected of planning the attacks.
On Tuesday, the authorities registered a case of abduction under Pakistan's anti-terrorism law against Mr Lakhvi.
He was produced in a court amid tight security and later police took him into protective custody.
Analysts say the Pakistani government, which has promised to crack down on militancy, does not want Mr Lakhvi to be freed.
The government is challenging and earlier decision to grant him bail, and imposed a three-month detention order in an effort to keep him in prison.
But the Islamabad High Court quashed the detention order on Monday, forcing the authorities to bring new charges to keep him detained.
Mr Lakhvi was accused of heading the militant group Lashkar-e-Taiba, which was blamed for the Mumbai attacks.
The charges brought against Mr Lakhvi and other suspects were mainly based on a confession given by Mohammad Ajmal Amir Qasab, the only gunman captured alive after the attacks.
India executed Qasab in 2012.
The attacks severely strained relations between India and Pakistan.
---
Mumbai attacks: 26-29 November 2008
Gunmen storm hotels, cafes and public buildings, shooting civilians and setting off explosions
Indian soldiers fight gun battles with militants for three days
Nine gunmen killed; one captured, tried and executed in India
---