Sohrabuddin Sheikh killing: India court clears Amit Shah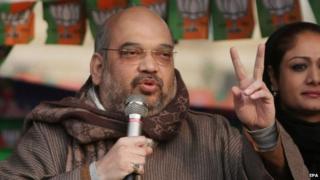 The powerful chief of India's governing BJP party Amit Shah has been cleared in the extra-judicial killing of Sohrabuddin Sheikh, a Muslim civilian.
Tuesday's court order is being seen as a major reprieve for the controversial politician who is the closest confidant of Prime Minister Narendra Modi.
In 2005, police killed Sheikh saying he belonged to an Islamic militant group.
Later, they admitted he had been killed in a staged gun battle and three top policemen were charged with his murder.
His wife, Kausar Bi, was also killed and her body burnt. A year later, the sole witness to the murder, Sohrabuddin Sheikh's close aide Prajapati, was also killed.
Mr Shah, who was home minister of the western state of Gujarat - where the killings took place - was charged with murder and kidnapping and arrested in 2010. He has always denied the charges saying he was targeted by political rivals.
He spent more than three months in jail, before being released on bail. The Central Bureau of Investigation (CBI) had challenged his bail, and sought the transfer of the case out of Gujarat.
In 2012 India's Supreme Court moved the trial to Mumbai, arguing that Mr Shah might try to influence witnesses.
On Tuesday, a special CBI court in Mumbai dropped the charges against Mr Shah.
"The inference drawn by CBI is not accepted in totality and he cannot be charged," Press Trust of India quoted Judge MB Gosavi as saying.
Sohrabuddin's family said they would appeal against the order in the high court.
Mr Shah is credited with the BJP's win in this year's general election and the party's strong performance in the crucial state of Uttar Pradesh, where they won 71 of the 80 seats.
He was appointed the BJP chief in July.