India launches scheme to monitor toilet use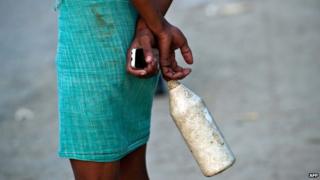 India is checking whether thousands of newly built toilets are being used.
Half a million latrines have been built in homes under a cleanliness drive begun by Prime Minister Narendra Modi in October. But many people still prefer to defecate outside.
Sanitation inspectors will go door-to-door to survey household lavatory use, noting the results on mobile phones and tablets, a government statement said.
Earlier surveys merely monitored the construction of toilets, it adds.
In its news release, the ministry of drinking water and sanitation said it "will launch a nationwide real time monitoring of use of toilets.
"Earlier, the monitoring was done only about the construction of toilets, but now the actual use of toilets will be ascertained on a sustained basis."
Launching the Clean India Campaign (Swachh Bharat Abhiyan) on 2 October, Mr Modi promised to build half a million toilets within 100 days.
The government says it has built 503,142 household latrines since then.
However, studies in the past have suggested that many people in rural India, despite having working toilets at home, continue to go out into the open believing it is more sanitary to defecate far from home.
Hundreds of millions of people defecating outside leads to large numbers of hygiene-related diseases and premature deaths.
Reports say some of the new toilets are being used as storerooms by people who consider toilets at home unhygienic.
Campaigners say that building toilets is not enough and that motivating people to use them is equally important.
The government has pledged to make India "100% free" of open defecation by 2019.