Indian media back 'aggressive' captain Kohli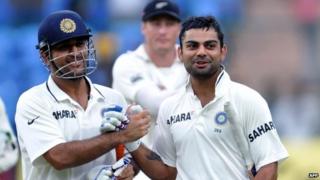 Media expect new Test captain Virat Kohli to take Indian cricket to new heights.
Kohli was appointed after Mahendra Singh Dhoni announced his retirement from Test cricket last week.
Australia drew the third Test against the visitors on 30 December to take an unassailable 2-0 lead in the four-match series.
The final Test of the series begins from Wednesday and pundits hope Kohli's "aggressive style" will help India win the match.
"As he feels his way into the Test captaincy, this provocative and electrifying cricketer from Delhi might find Sydney a turning point in his career," says a report in The Times of India.
However, the report adds that Kohli's captaincy is yet to be fully tested.
"Will he know when to take his foot off the pedal? Can he recognise the moments when a clever retreat, instead of a hasty attack, is the need of the hour? Most importantly, can he rally his teammates around his cause and keep his calm in pressure situations? It's a journey which has just begun, fraught with fears but fertile with hope," it adds.
The NDTV website highlights the new captain's selection problems.
"It is a no-brainer that the skipper will opt for the one that brings more attacking value to the side. Whether that's a second spinner or a pacer capable of clocking over 86 miles/hour is where the dilemma lies," it says.
Much has also been said in the media about Kohli's "fiery approach" on the pitch and his heated exchanges with opposition teams.
An article in the Cricinfo website says the new skipper has been "walking around with a bull's eye around his head. One he has worn proudly...".
"Talking is always best done in the aftermath or anticipation of victory. Not when making note of a 'fightback' or a 'brave fight' or a 'display of aggression' or when recounting tales of settling personal scores or establishing personal pecking orders," says another article in the website.
Former cricketers, however, have defended Kohli's approach to the game.
"What is wrong with that aggressive attitude?... He is an aggressive cricketer and he loves this attitude on the field and it brings out the best in him," says former Test captain and Team Director Ravi Shashtri.
Obama's visit
Meanwhile, police officials have decided to take help from street vendors in Delhi for intelligence gathering ahead of US President Barack Obama's visit, The Hindu reports.
Street vendors who sell food, clothes, shoes, accessories and other items are seen on most of Delhi's streets.
Police have reportedly been educating these hawkers about the significance of the US leader's visit, while seeking "grassroots intelligence-gathering".
According to a senior police officer, instructions have been given to policemen to "multiply the number of daily interactions" with the road-side vendors.
Mr Obama is due to visit Delhi for India's Republic Day ceremonies on 26 January and talks with Indian Prime Minister Narendra Modi.
BBC Monitoring reports and analyses news from TV, radio, web and print media around the world. . You can follow BBC Monitoring on Twitter and Facebook.