Indian coal strike continues after talks fail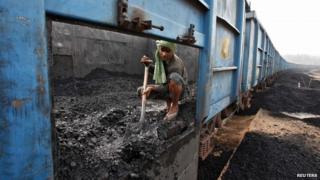 A strike by millions of coal miners in India has entered its second day after talks with the government failed.
The miners are striking for five days in protest at government moves to open up the industry to private companies.
Reports say that 75% of India's daily coal production of 1.5 million tonnes had been affected by the strike.
India is one of the largest producers of coal in the world and more than half of its commercial energy needs are met by coal.
The strike has been called by five unions representing some 3.7 million coal workers employed with the state-run Coal India, which has a near monopoly over production
"I can say that a nationwide strike is on and this is the biggest one since 1977," Gurudas Dasgupta, one of the union leaders, told the AFP news agency after talks with the government collapsed.
With a number of power plants running low on coal supplies, there are fears that a prolonged strike could lead to widespread disruption in power supplies.
Corruption scandal
India's new BJP government pledged in October to open up the country's coal mine industry to private players as part of reforms by Prime Minister Narendra Modi to revive an ailing economy.
The government has also approved an ordinance allowing auctions of coal mines to private companies for their own use, as well as allowing commercial mining in the future.
The executive order came after India's Supreme Court last year cancelled more than 200 coal mining licences awarded by successive governments since 1993 in a corruption scandal which has cost the country tens of billions of dollars.
The court said that the governments gave rights to mine coal to state and private companies in a manner which was "not fair and transparent" and without competitive bidding.