India MP Sakshi Maharaj: Hindus must have more babies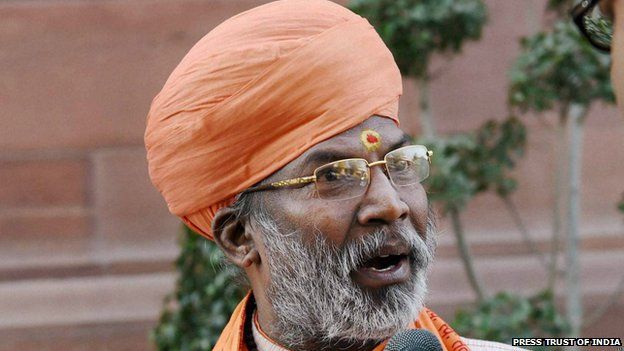 A hard-line Indian MP has sparked outrage by urging Hindu women to have at least four children "in order to protect the Hindu religion".
Analysts say the comments by Sakshi Maharaj, from the governing Bharatiya Janata Party (BJP), are aimed at stirring up tension with Muslims.
Opposition Congress party spokesman Sanjay Jha called his comments "ludicrous and provocative".
Last month, Sakshi Maharaj said the killer of Mahatma Gandhi was a patriot.
The hardliner, who dresses in saffron robes, is known for creating controversies.
"The concept of four wives and 40 children will not work in India," the MP is reported to have told a gathering in an apparent reference to Muslim men, who are legally allowed to have four wives.
"The time has come when a Hindu woman must produce at least four children in order to protect Hindu religion."
The BBC's Geeta Pandey in Delhi says hard-line Hindus regularly accuse Muslim women of being "breeding machines" who have lots of children in a bid to overtake the Hindu population.
More than 80% of India's population is Hindu, while Muslims make up less than 14%.
But the Hindu nationalists insist there is a real threat of the minority community becoming a majority, our correspondent adds.
Sanjay Jha wrote on Twitter: "There is only one way to describe Sakshi Maharaj's ludicrous and provocative call for Hindu women to have four children; beyond a boundary."
Priyanka Chaturvedi, also of the Congress party, wondered if women were born only to have children:
Academic Prerna Bakshi questioned the "irony" of the statement:
Many like journalist Kanika Gahlaut have been using sarcasm to poke fun at the MP's comment:
Journalist TS Sudhir wondered if this was what Prime Minister Narendra Modi meant when he launched the "Make in India" campaign to turn the country into a manufacturing hub:
Journalist Nistula Hebbar wanted Sakshi Maharaj to shut up:
Comedian Rohan said the comment suggested the MP had never had to deal with the tough nursery school admission process in the country:
Sakshi Maharaj won a seat in last year's general election in the northern state of Uttar Pradesh.
In recent months, several BJP figures have been in the news for making controversial remarks.
In December, Minister for Food Processing Niranjan Jyoti used an abusive term to refer to non-Hindus, by asking people at a public rally to choose between Ramzada (children of the Hindu God Ram) and Haramzada (bastards).
Prime Minister Narendra Modi said he disapproved of her language but refused to sack her.