India coal miners strike called off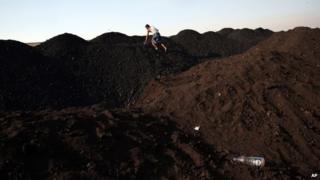 A strike by millions of coal miners in India has been called off after talks with the government.
The miners had launched a five-day-long strike on Tuesday in protest at government moves to open up the industry to private companies.
They ended the strike late on Wednesday after the government agreed to re-examine the decision.
India is one of the largest producers of coal in the world. More than half of its energy needs are met by coal.
The strike was called by five unions representing some 3.7 million coal workers employed with the state-run Coal India, which has a near monopoly over production.
They decided to end the strike after Power Minister Piyush Goyal agreed to form a committee to look into any issues with a recently passed executive order which would allow auctions of coal mines to private companies for their own use, as well as allowing commercial mining in the future.
Jibon Roy, a senior union leader, told Reuters news agency: "We have withdrawn the strike. The minister agreed to form a committee... They will see what are the problems in the ordinance (executive order). Normal discussions on other demands will continue."
The executive order came after India's Supreme Court last year cancelled more than 200 coal mining licences awarded by successive governments since 1993 in a corruption scandal which has cost the country tens of billions of dollars.
The court had said that the governments gave rights to mine coal to state and private companies in a manner which was "not fair and transparent" and without competitive bidding.