Indian media: Praise for 'record-breaking' captain Kohli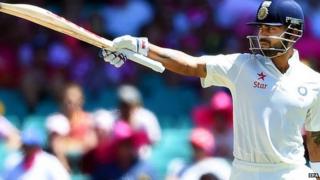 Papers praise cricketer Virat Kohli's record-breaking performance as India's Test captain.
Virat Kohli became the first player to make three Test centuries in his first three innings as captain. The third century came on an eventful third day of the fourth Test against Australia in Sydney on Thursday.
He was dismissed for 147 on Friday.
Kohli scored a century each in both innings of the first Test when he stood in for injured Mahendra Singh Dhoni at Adelaide Oval in early December.
However, Australia won the first two Test matches to take a 2-0 lead in the four-match series.
Dhoni decided to retire from Test cricket after drawing the third Test, and Kohli was subsequently asked to lead the team in the ongoing fourth Test.
India may not have won any Test under Kohli, but papers have praised his ability to lead from the front.
"The feisty batsman, who made his Test debut in 2011 against the West Indies, also became the first overseas batsman since Herbert Sutcliffe (1924-25) and Walter Hammond (1928-29) to score four hundreds in a Test series in Australia," says a report in the India Today website.
Cricbuzz website says Kohli has become a more confident batsman as India's Test captain.
"It has been a dream run for the Indian captain, and he is definitely not the Kohli one saw in England. There were no hesitant pokes in the channel outside the off-stump, neither seen were the tentative front-foot pushes. Everything has gone according to plan," it says.
Solidarity with Charlie Hebdo
Meanwhile, papers continue to express shock and anger over the attack on the Paris offices of satirical magazine Charlie Hebdo, which killed 12 people.
Thousands gathered for rallies across France and some cities in Europe and the US on Thursday, standing in solidarity with victims of the Charlie Hebdo shooting and supporting press freedom.
The magazine's office was firebombed in 2011. It had angered some Muslims by printing cartoons of the Prophet Muhammad as part of its irreverent take on news and current affairs.
Most Indian papers say such attacks won't deter the confidence of journalists all over the world to stand for press freedom.
"The horrific terrorist attack in Paris at the office of the French magazine Charlie Hebdo is a direct assault on the freedom of speech, thought and expression, the fundamentals on which all open, democratic societies are built," says The Hindu.
The paper adds that "all who believe in freedom of expression and the democratic way of life must express solidarity with the magazine, and condemn this unspeakable act of violence against them".
The Times of India says "this is not just an assault on an irreverent magazine but a challenge to the idea of free expression itself - a freedom that lies at the heart of democracy".
"Wednesday's terrorist attack is a brutal attempt at intimidation by religious and political fundamentalists that must be resisted... No modern society can allow such violence in its midst and it must be pushed back," it says.
BBC Monitoring reports and analyses news from TV, radio, web and print media around the world. You can follow BBC Monitoring on Twitter and Facebook.