Is Kashmir headed for direct rule?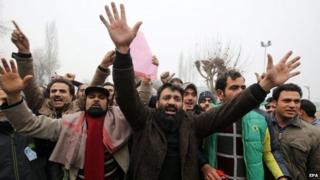 Politics is the art of the possible, but more than a fortnight after elections results in Indian-administered Kashmir, no government is in sight.
To be sure, the split verdict hasn't made things easier.
The regional People's Democratic Party (PDP) won most seats, but not enough to form a government.
The party won 28 seats, three more than Prime Minister Narendra Modi's BJP party, which had made an audacious bid to win power in the region. The ruling National Conference won 15 seats, while the enfeebled Congress party surprisingly managed to pick up 12 seats.
With no party winning the 44 seats needed to form a government in the 87-member state assembly, only a coalition can rule Kashmir.
On Thursday, Omar Abdullah, ruling as a "caretaker" chief minister after his National Conference party was defeated in the polls, stepped down, saying he did not realise a new government would take so much time. His tweets echoed the prevailing mood of political uncertainty and confusion in the state.
Kashmir's borders with Pakistan have been recently restive with thousands of villagers fleeing their homes on the Indian side after the two sides exchanged fire. The region is still recovering from September's devastating floods. Mr Abdullah rightly believes that the state needs a government urgently.
But no party is being able to cobble together a coalition, not least because of the fractured verdict in a disputed region, which is claimed by both India and Pakistan in its entirety.
For the first time since 1983, say analysts, Kashmir voted along religious and regional lines - the Hindu nationalist BJP swept the Hindu-majority Jammu region, while the regional "soft-separatist" PDP held sway in the Muslim-majority valley. "It is a disturbing verdict," says Shujaat Bukhari, editor of Rising Kashmir.
The verdict, says analyst Muzamil Jaleel, has clearly "exhibited the vast gulf between the political aspirations of Jammu's Hindu electorate and those of Kashmir and other Muslim majority areas". These elections, he mulls gloomily, "mark a beginning of the end for the fragile unity that holds Jammu and Kashmir together as a single state".
No wonder then that the two leading parties PDP and BJP make for strange bedfellows.
The BJP has said it is very keen to form a coalition government in Kashmir and is said to have held informal talks with PDP, but they haven't quite worked out for what many say are obvious reasons.
Many say the PDP, led by the venerable Mufti Mohammad Sayeed, a former federal minister who left the Congress to form his party in 1999, wants to carve out a legacy as a regional statesman: he has, in the past, proposed a softer de-facto international border and introduction of Pakistani rupee as a joint currency.
Many like Mr Bukhari talk about Mr Sayeed's dreams of emerging as a "bigger leader" as a broker of peace between the two rivals by forming an alliance with a party, which rules India.
He has apparently made it clear to BJP leaders that talks with Pakistan, and dilution of a draconian federal law that gives the security forces the powers of search and seizure must be part of a common agenda. The BJP - which has always called for scrapping a special status for the state which gives Kashmiris the right to decide which Indian laws apply to them - is chary of such demands.
There was some talk about curious "grand coalition" which would bring the National Conference and PDP together to keep the BJP out, but that, say analysts, would be fickle and leave the state without a credible opposition.
Clearly, the BJP's audacious plans to lead or be a part of a government in Kashmir appears to be fading by the day. The prospects for the single-largest PDP also look bleak as most people in Muslim-dominated valley feel such an alliance "would be communal and anarchist in nature".
So, is Kashmir headed for direct rule?
Under direct - or presidential - rule, India's central government rather than local politicians runs a state on behalf of the president until fresh elections. "That is what it clearly looks like," says Mr Bukhari. "It will be back to [fresh] elections."