Charlie Hebdo: India politician 'praised attackers'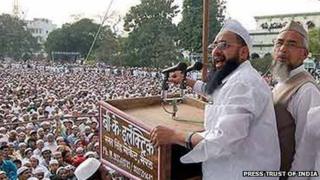 Indian police are investigating a local Muslim politician for inciting hatred after he was quoted apparently praising the massacre at Charlie Hebdo magazine.
Haji Yakub Qureshi, a former minister in Uttar Pradesh state, was quoted as saying those who insulted the Prophet Muhammad "deserve death".
He denies making the comments.
Twelve people died when two masked men armed opened fire at the Paris offices of the magazine, which has printed cartoons of Muhammad in the past.
The BBC's Geeta Pandey in Delhi says Indian politicians are notorious for making controversial, religiously provocative statements.
Other controversial recent incidents include:
Last week, hard-line Hindu MP Sakshi Maharaj advised Hindu women to have at least four children to protect their religion, in remarks aimed at stirring up tension with Muslims
In December, Minister for Food Processing Niranjan Jyoti asked people at a public rally to choose between Ramzada (children of the Hindu God Ram) and Haramzada (bastards)
Last weekend, Muslim politician Asaduddin Owaisi said "every child is born a Muslim; his parents and society convert him to other religions"
Last year, an MP from the regional Trinamool Congress (TMC) party threatened to kill opposition workers and have their women raped.
The Hindustan Times quoted Mr Qureshi, who belongs to the regional Bahujan Samaj Party, as saying that those who lampooned the Prophet "invite death".
"Those who dare insult Prophet Muhammad deserve death and there is no need to initiate legal procedure against them," he said.
The paper further reported that he offered a reward of 500m rupees ($8m) to the gunmen.
He had made similar comments about the Danish cartoonist whose lampooning of Muhammad caused controversy in 2006.
"I have not made any such announcement regarding the attack in Paris," Mr Qureshi told the Press Trust of India news agency, although it was unclear if his denial referred only to the offer of a reward.
The police said they had opened a preliminary investigation into Mr Qureshi for inciting communal hatred.
The attacks on Charlie Hebdo have been widely condemned in India by politicians and leaders of the 150-million-strong Muslim community.