India toxic alcohol kills 29 in Uttar Pradesh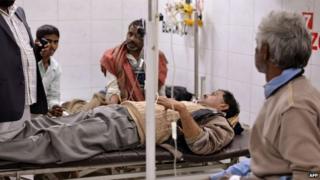 At least 29 people have been killed after consuming toxic alcohol in India's Uttar Pradesh state, police said.
Residents of a number of villages in Lucknow and Unnao districts fell ill after drinking the alcohol.
More than 100 people are being treated in hospital, with fears the death toll could rise.
Toxic alcohol deaths are a regular occurrence in India, where people often drink cheap country liquor.
Many of the victims were among more than 200 people who had gathered to watch a cricket match on Sunday evening in a village near the state capital, Lucknow, Associated Press quoted government official Anil Garg as saying.
The Press Trust of India quoted the state's chief medical officer SNS Yadav as saying that 123 people had been admitted to at least two hospitals.
Doctors in Lucknow said the condition of some of those being treated was serious - a number of patients had been put on ventilators while some others had lost their eyesight.
The shop owner who sold the homemade alcohol has been arrested, officials said, adding that large containers of chemicals found at the shop had been sent to a laboratory for testing.
"The symptoms gave a clear indication that these patients were served methyl alcohol," Associated Press quoted Dr Kausar Usman, head of the trauma centre at Lucknow's King George's Medical College hospital, as saying.
Despite being toxic, methyl alcohol is sometimes mixed with ethyl alcohol because it is cheaper.
Government spokesman Rajendra Chaudhary told the AFP news agency that a dozen officials had been suspended from different local departments over negligence.
"The guilty will not be spared," he said.
India has witnessed many incidents of toxic alcohol deaths in the past.
Nearly 170 people died in 2011 in the eastern state of West Bengal
At least 30 people were killed in Uttar Pradesh in September 2009
Some 107 people killed in Gujarat in July 2009