RK Laxman: Cartoonist behind India's 'Common Man'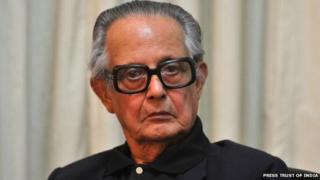 Legendary Indian cartoonist RK Laxman has died aged 94. For over five decades from 1951, his daily cartoon appeared on the front page of The Times of India, where the cartoonist offered a glimpse into the aspirations and quirks of Indians. Columnist and fellow cartoonist Rajinder Puri traces his legacy.
RK Laxman has been perhaps the most prominent cartoonist in India.
In large measure this is due to his platform - India's premier newspaper The Times of India.
After Shankar (Kesava Shankara Pillai who is considered the father of political cartooning in India), Laxman became a household name among cartoonists.
As a political commentator, there might have been better cartoonists such as PK Shankaran Kutty, Abu Abraham and others with sharper political insight.
But Laxman had the common touch which appealed to the common man. And not surprisingly, he created his own Common Man.
The character caught the public's imagination through the length and breadth of India to become a national icon.
Laxman's draughtsmanship was impeccable - his knowledge of anatomy, eye for detail while drawing background, and dexterous brushwork rendered his art world-class.
He was never a stylist - his work was founded on realism without fancy abstractions.
He was inspired in part by David Low, one of Britain's greatest cartoonists. But Low used fewer lines and less detail and that painstaking elimination of unnecessary detail gave his work its simplicity and strength.
However, it was Laxman's pocket cartoon that made him and his Common Man national icons.
There was a time when all the maddening everyday inconveniences caused by the city administration were caught brilliantly by Laxman to empathise with the woes of the ordinary citizen.
India learnt to wake up with morning tea and a rueful laugh over the Common Man's travails. The Common Man became a habit, later an addiction.
The Times of India fully exploited Laxman's popularity and both the newspaper and the cartoonist jointly thrived.
Laxman's Common Man was by no means the first pocket cartoon character to catch the public's imagination.
Earlier, The Times of India Delhi edition started a daily pocket cartoon, "Babuji", drawn by the newspaper's Delhi-based cartoonist, Samuel T. It too was a great hit.
Subsequently Laxman started his Common Man cartoon in Mumbai where the newspaper was headquartered.
The rest is history.
All cartoons are Courtesy The Times of India Group. Copyright: Bennett, Coleman and Co Ltd. All rights reserved.