Arvind Kejriwal, Kiran Bedi file Delhi poll nominations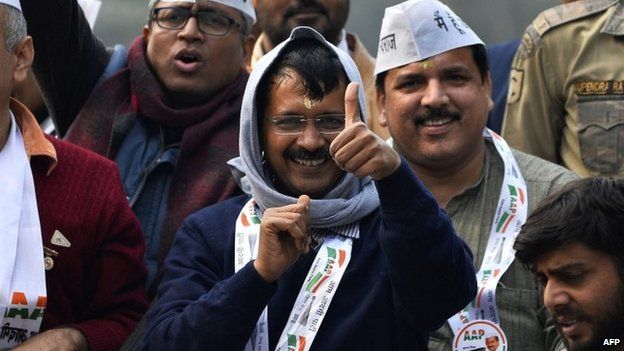 The head of India's anti-corruption Aam Aadmi Party (AAP), Arvind Kejriwal, has filed his nomination for the upcoming Delhi elections.
Mr Kejriwal was to file his papers on Tuesday, but could not reach the election office in time after thousands of supporters came out to greet him.
The candidate for the ruling BJP, Kiran Bedi, also filed her documents on Wednesday, the last day for submitting nominations.
The capital will vote on 7 February.
Counting for the 70-member state assembly is due on 10 February.
Delhi has been without a government since Mr Kejriwal, the former chief minister, resigned last February when his anti-corruption bill was blocked.
Since then the state has been governed directly by the federal authorities.
Both Mr Kejriwal and Ms Bedi have been campaigning in the city, holding rallies and road shows.
Mr Kejriwal is contesting from the New Delhi constituency while Ms Bedi has filed her papers from the Krishna Nagar constituency in east Delhi.
Ms Bedi and Mr Kejriwal worked together during the anti-corruption campaign, led by social activist Anna Hazare, but the two have had a falling out in recent months.
The AAP did not do well in last summer's general election, but in recent weeks Mr Kejriwal has once again emerged as the major challenge to the BJP's electoral hopes in Delhi.
In the previous Delhi election, the BJP won the most seats but fell short of a majority, leaving the AAP - which came second - to form a coalition with the Congress party.
AAP leader Mr Kejriwal resigned on 14 February after 49 days in office, however, after opposition politicians blocked his bill, which would have created an independent body with the power to investigate politicians and civil servants suspected of corruption.
Ms Bedi, 65, who was named as the BJP's candidate earlier this week, has promised good governance and to make Delhi safer for women.
She was the first woman to join the Indian police service in 1972 and held several senior positions, working in traffic, prison management and drug control, and later serving as a UN peacekeeping adviser.
She attracted global attention when she headed Delhi's notorious Tihar Jail, where she introduced yoga and literacy classes for inmates.