Indian media: New censor chief says Modi an 'action hero'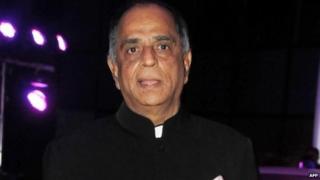 Papers highlight that the new chief of India's film watchdog has described Prime Minister Narendra Modi as an "action hero".
Filmmaker Pahlaj Nihalani was appointed the head of the Central Board of Film Certification (CBFC) on Monday, just days after Leela Samson quit the post after a row over clearance given to the controversial film Messenger of God which was rejected by her panel.
Ms Samson and nine other members of the censor board resigned last week accusing the government of "interference, coercion and corruption" - charges denied by India's information and broadcasting ministry.
Films in India have to get a clearance from the CBFC for release in theatres.
Mr Nihalani is a self-confessed supporter of the ruling Bharatiya Janata Party (BJP) and an ardent follower of Mr Modi.
"I am proud to say I am a BJP person. I believe in BJP. Narendra Modi is the voice of the nation... He is my action hero. He is a visionary person," Mr Nihalani told the NDTV website in an interview on Tuesday.
Mr Nihalani is credited for making a pro-Modi campaign video titled "Har Ghar Modi (Modi in every home)" during last year's general election, reports say.
However, he has dismissed claims that his "loyalty" to Mr Modi has helped him bag the top post.
"It would be unfair to say that I was chosen because I made that video. I had not made that video because the party ordered it. I did it out of my own will. Like many ordinary people, I too am proud of Mr Modi's leadership," The Indian Express quotes him as saying.
Media, however, have been critical of Mr Nihalani's outright expression of support for the ruling party and have raised questions over his - and other new board members' - links to the ruling party.
The government said people from different parts of the country have been selected.
"The comments by Mr Nihalani... came even as the government defended its appointments, saying the idea was to have a "mix of all", The Times of India says.
President's 'wise' advice
Meanwhile, papers back President Pranab Mukherjee's advice to the government to avoid frequently issuing ordinances.
Mr Mukherjee on Monday emphasised that the "extraordinary legislative power" to issue an ordinance or executive order is meant for "certain exigencies" and "compelling circumstances".
A total of nine ordinances - orders on important administrative issues - have been passed since the new government took over in May 2014.
Opposition parties frequently stopped the proceedings in the parliament over disagreements with the new government on a number of issues.
The government, in response, seems to have resorted to issuing ordinance orders.
Most papers, including The Times of India, feel that Mr Mukherjee's advice is "wise" and has come at the right time.
Praising the president for "a balanced intervention", the paper says "ordinances are a suboptimal way of legislating. They undermine the parliamentary process which is meant to represent interests of disparate groups".
The Indian Express, similarly, urges Mr Modi to "take note of President Pranab Mukherjee's remark".
"As Mr Mukherjee underlined, enacting laws through executive fiat goes against the spirit and promise of a robust democracy," the paper says.
Visa on arrival
And finally, the new visa-on-arrival scheme has resulted in more tourists coming to India, The Times of India reports.
The government launched a visa-on-arrival facility for 43 countries last November and the effect was seemingly evident in December.
"In December alone, the country saw a 421.6% jump in tourist arrivals compared to the same period in 2013," the paper says.
BBC Monitoring reports and analyses news from TV, radio, web and print media around the world. You can follow BBC Monitoring on Twitter and Facebook.