Indian media: Hindu widow 'saves 10 Muslims' from riots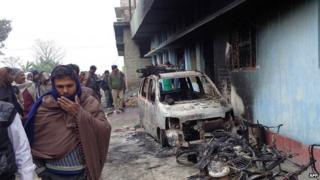 A frail Hindu widow is being "hailed as a hero" for saving the lives of 10 Muslims during recent religious riots in the northern state of Bihar, according to the Indian media.
Shail Devi sheltered her Muslim neighbours in her home when a 5,000-strong mob on Sunday attacked their village in Muzaffarpur district in response to the alleged killing of a young Hindu man, the New Indian Express reports.
Shail Devi says she and her daughter stood guard outside the house and turned away rioters targeting Muslims. "I lied that I had not given shelter to Muslims in my house," she is quoted saying.
Ash Mohammed, one of those seeking refuge in her house, said he could have been killed if she had not hidden him in her house. "Shail was like god-sent angel to us," he said.
According to the newspaper's report, Shail Devi has become a household name in the village and wider area for being a "rare example of communal harmony".
"She has proved again that humanity is still alive, we are proud of her," one villager, Arvind Kumar, is quoted saying.
New era?
In other news, papers are full of reports on the positive mood music between the US and India in the run-up President Barack Obama's forthcoming visit.
Several dailies have published reports noting that Prime Minister Narendra Modi's effort - known as "Act East" - to "push back" against growing Chinese influence in the region has impressed Washington.
The reports quote unnamed observers as saying - despite official denials from Delhi - that India played a role in organising the opposition that defeated former Sri Lankan president Mahinda Rajapaksa in recent elections.
Mr Rajapaksa alarmed Indian officials already suspicious of his pro-Chinese leanings by twice allowing a Chinese submarine to visit without prior warning to India.
The new US ambassador to India, Richard Verma, predicts Mr Obama's visit will usher in a "new era" in Indian-US ties that previously have not "lived up to the hype and promise", The Hindu reports.
In a guest commentary in The Hindu, former US ambassador Frank Wisner says Mr Obama's visit is an opportunity to "give our very promising relationship a fresh impulse".
But he also urges India to open up to global trade, adding that Washington is ready to be Delhi's "friend and sponsor" if it does.
But there are also notes of caution. Writing in The Hindustan Times, Abusaleh Shariff warns that many barriers remain to closer economic links, including what he terms the US reluctance to transfer defence technology, and India's slow pace of reform.
Journalist Bharat Bhushan, on the other hand, warns Mr Obama not to let his economic ties blind him to the fact that Prime Minister Modi has been "silent about growing religious intolerance".
"The relationship between the two great democracies of the world will endure only if they are on the same page on universal freedoms and rights," he writes in the Deccan Chronicle.
'Old pal'
Although ties with the US take centre stage, there was also a reminder of India's traditional non-aligned status in the shape of talks between the Russian and Indian defence ministers on their longstanding and extensive military ties.
Defence Minister Manohar Parrikar and his visiting Russian counterpart, Sergei Shoigu, decided to accelerate current joint military projects, including one on the development of a future fight-generation fighter aircraft, the Times of India reports.
Meanwhile, The Hindustan Times homes in on India's desire to involve its "old pal" Moscow in Mr Modi's "Make in India" campaign to boost domestic manufacturing, including through a possible project to build advanced Russian helicopters in India.
BBC Monitoring reports and analyses news from TV, radio, web and print media around the world. You can follow BBC Monitoring on Twitter and Facebook.