Barack Obama to join India PM Narendra Modi in radio address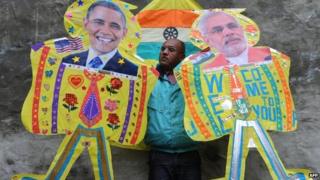 US President Barack Obama will join PM Narendra Modi in his monthly radio address to reach out to millions of Indians with no access to television.
The address, Man ki Baat (from the heart), is broadcast on state-run All India Radio (AIR), as well as all FM channels and community radio stations.
Mr Modi tweeted on Thursday that the address would run on Tuesday, a day after India celebrates Republic Day.
Mr Obama arrives in the Indian capital on Sunday for a three-day visit.
He will be the guest of honour at the military parade on Monday, where he will take the salute from Indian soldiers.
He will also hold bilateral talks with PM Modi, meet business leaders and visit the Taj Mahal in the northern town of Agra.
In a series of tweets on Tuesday, Mr Modi said he was "eagerly looking forward" to the radio address and invited people to send in their questions.
Mr Modi, who led his Bharatiya Janata Party to a spectacular win in last summer's general election, began his monthly address in October in an attempt to connect with India's public.
The speech is generally was broadcast on Sundays from 11:00 India time [05:30GMT], but the joint broadcast with Mr Obama is scheduled for Tuesday morning.
The All India Radio website says it runs 413 stations in India and reaches nearly 99.19% of the country's 1.2 billion population.