India and US seal nuclear deal as Modi hosts Obama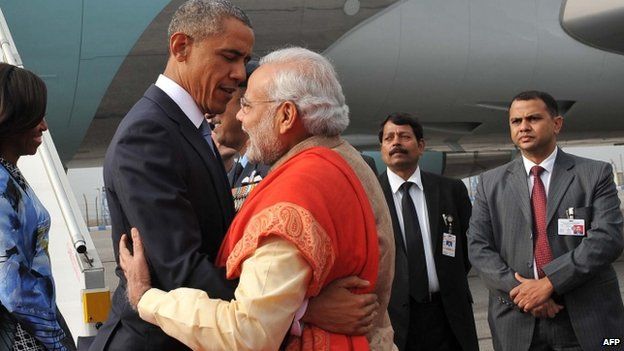 The US and India have announced a breakthrough on a pact that will allow American companies to supply India with civilian nuclear technology.
It came on the first day of President Barack Obama's visit to India.
The nuclear deal had been held up for six years amid concerns over the liability for any nuclear accident.
Indian Prime Minister Narendra Modi said the nations were embarking on a "new journey" of co-operation, with stronger defence and trade ties.
Mr Obama said that the nations had declared a new friendship.
Security is intense in Delhi, with Mr Obama to be the guest of honour at Monday's Republic Day celebrations. Thousands of security personnel have been deployed in Delhi.
The nuclear pact had been agreed in 2008 but the US was worried about Indian laws on liability over any accidents.
Now, a large insurance pool will be set up, without the need for any further legislation.
US ambassador Richard Verma said: "It opens the door for US and other companies to come forward and actually help India towards developing nuclear power and support its non carbon-based energy production."
The BBC's Sanjoy Majumder in Delhi says the sides also agreed to increase their bilateral trade five times, from the current $100bn (£66.7bn) a year. The US will also sell more military hardware to India.
Earlier, Mr Modi stressed the importance of the visit by breaking with protocol to receive Mr Obama personally at Delhi airport.
After his arrival, the US president travelled to the presidential palace, Rashtrapati Bhavan, for an official welcoming ceremony.
Mr Obama laid a wreath at the Mahatma Gandhi memorial and planted a tree.
At a joint press conference, Mr Modi said the two countries were "starting a new journey" based on "renewed trust and sustained attention".
He said of Mr Obama: "We have forged a friendship, there is openness when we talk."
He said the two nations would increase cooperation on defence projects and on "eliminating terrorist safe havens and on bringing terrorists to justice".
Mr Obama said the countries "had declared a new friendship to elevate our partnership", which "commits to more meetings and consultations across governments".
He added: "The new partnership will not happen overnight. It will need patience but will remain a top foreign policy priority for my administration."
The BBC's Geeta Pandey in Delhi says security around the Republic Day parade is generally tight, but this year the high-profile visit has taken preparations to a new level.
India Gate and the Rajpath (the King's Avenue), where Monday's parade takes place, have been out of bounds for most people for the past few days, with thousands of policemen on duty.
Security has been upgraded at several upmarket hotels, where the US president and his team are staying.
Traffic restrictions have been put in place across the city, and extra checks have been taking place at metro stations.
Mr Obama's visit to India has been shortened so he can visit Saudi Arabia and pay his respects following the death of King Abdullah.
It means he will not now visit the Taj Mahal.