The women who must make Delhi safer
By Vandana Vijay
BBC Hindi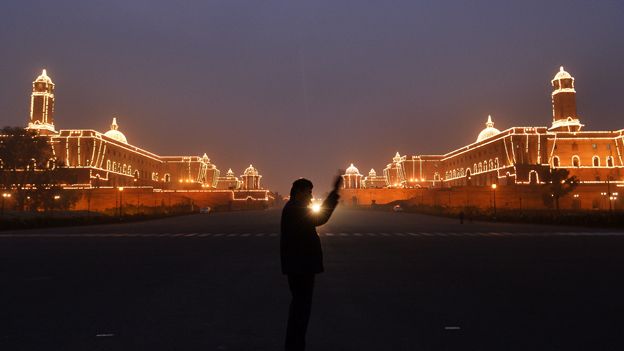 It is a short walk from my office in the heart of Delhi to the nearest underground station - just 10 minutes. But it is a nervous 10 minutes.
Especially on dark wintry evenings, I set out with a sense of unease. I ask myself if I am being paranoid. However, few women are around at that time and Delhi has a poor reputation for safety.
I am not the only one asking this question, and in less than a fortnight several women running for office in India's capital will need to answer it.
Delhi has been without a government for roughly a year but, on 7 February, voters will choose members to fill the 70-member state assembly.
The three major parties - Bharatiya Janata Party, Aam Aadmi Party and Congress - are fielding some high-profile women, and some fresh faces.
The BJP, which governs at national level, has given its ticket for Delhi's chief minister to Kiran Bedi, India's former top female police officer.
She has been an inspirational figure for a generation of women. She was the first woman to enter the senior ranks of India's police. It is a story that even inspired a popular soap opera in the late 1980s.
She quickly earned the reputation for being a tough officer. She is said to have once removed former Prime Minister Indira Gandhi's vehicle for a parking offence.
When filing her nomination papers, she made a point of speaking to all the women on the way. She says: "Every woman should think she is the Chief Minister of Delhi. I will be like their big sister who will work for them."
One woman I met on the way to work said she hoped Bedi's time in the police force could help her to make Delhi's officers become more sensitive to women's needs.
But Bedi's allegiances have shifted dramatically - she first opposed Prime Minister Narendra Modi but is now standing on his ticket - exposing her to the charge of political opportunism.
The outspoken student leader
The BJP has also chosen newcomer Nupur Sharma to stand against former Chief Minister and Aam Aadmi Party Leader Arvind Kejriwal in his seat.
Ms Sharma, 30, brings the energy and a dash of glamour to the table. A lawyer and an alumni of London School of Economics, she was a student leader but is a political novice when it comes to the national stage.
She has been quoted as saying that women's safety was a priority, but many wonder if she can elevate her student politics to the national arena.
The woman who changed sides
Veteran leader Krishna Tirath is the BJP candidate who stunned everyone by defecting from the Congress party at the very last moment.
Her defection may help them get votes of Delhi's Dalit (formerly known as untouchable) community. But - importantly - she is also a former minister for women and child development.
Aam Aadmi Party has fielded six women candidates including Rakhi Birla who at the age of 26 won Delhi elections in 2013 and even became a minister in the short lived Kejriwal government.
The president's activist daughter
Congress has women leaders like former minister Kiran Walia who will be fighting Kejriwal. They also have Sharmishtha Mukherjee.
She is political aristocracy, being the president's daughter, but until last year she was known largely as an acclaimed classical dancer and social activist.
She only joined Congress last year and - being Bengali - is being fielded in a constituency including Bengali-dominated areas.
But these candidates do not necessarily indicate a willingness to bring true gender parity which could see women at the heart of policy-making. In the last Delhi elections, there were only 17 women candidates from the three main political parties for 70 seats - only three were elected.
This time the BJP has provided seven seats and the AAP six seats to women. Some analysts believe that choosing Kiran Bedi was also a matter of political expediency.
Women have not traditionally been considered a "vote bank" by the parties, although the AAP has changed this marginally.
Last year, as I was interviewing an acid attack victim, I witnessed a group of AAP activists helping her move house. It was a month before the 2013 elections. She had lost her vision and livelihood after the acid attack; she had also lost hope in the political system. The AAP was reaching out to people like her.
Their leader Arvind Kejriwal has already promised more CCTV cameras in Delhi and marshals in local buses. But the BJP's promises of greater prosperity and jobs will be just as alluring.
It was in December 2012 following the brutal gang rape and murder of a student when Delhi earned the ignominious label of the "rape capital". Just two years later, rape allegations against an Uber taxi driver show the issue is still high on the agenda.
Which returns us the point: will Delhi be any safer for women post elections?
Many women on the streets know that fielding charismatic women is no guarantee of whether they will emerge as an effective political force who will give voice to 46% of Delhi's population.