India Uber resumes services in Delhi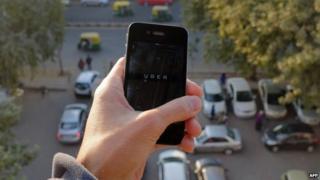 The web-based taxi firm Uber has restarted services in Delhi, weeks after it was banned over charges that one of its drivers raped a passenger.
Uber said in a statement it had applied for a radio taxi licence and would improve safety by introducing features such as an "in-app emergency button"
Driver Shiv Kumar Yadav is currently on trial on rape and kidnapping charges.
A 26-year-old woman alleges he drove her to a secluded area and raped her. He denies the charges.
Delhi banned Uber and several other web-based taxi firms for failing to carry out adequate driver checks in early December.
The company apologised for the incident and acknowledged that it "must do better".
But it has defended the way it checks drivers, and said it expected to have completed about two million background checks worldwide by the end of 2014.
---
Uber's troubles
In late 2014, taxi drivers allege Uber has an unfair advantage and stage road-block protests and strikes in cities across the world
Regulatory problems and legal challenges to its business model lead to national bans in Thailand and Spain, and local bans in India, Germany and the US
Two Uber drivers charged with sex assault in US city of Chicago in separate incidents
---
Rape has been in focus in India since a 23-year-old student was gang-raped and murdered on a bus in Delhi in December 2012, which prompted global outrage and a tightening of the laws on sexual violence.
Correspondents, however, say tougher laws have failed to bring down the number of rape cases and a series of high-profile crimes have taken place since then.