RK Laxman: Chronicler of Indian life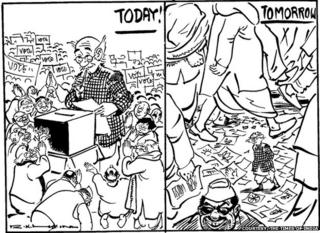 As a young boy growing up in Mysore in southern India, RK Laxman did not remember wanting to do anything else except draw.
"My passion was sketching: street scenes, people and landscapes. I do not remember a day when I have not sketched." He was the youngest of six sons of a "strict" school headmaster.
When Laxman applied to the prestigious JJ School of Arts in what was then Bombay (now Mumbai), the school rejected him saying that his "drawings lacked the kind of talent to qualify for enrolment in our institution as a student". He eventually graduated with an arts degree from a university in southern India.
In school, he discovered black and while illustrations in Strand Magazine, where all the stories "were generously illustrated". After working in a number of newspapers as a cartoonist, he joined the Times of India. He began drawing cartoons three times a week, with a panel of three cartoons on Sunday, a practice he struck to for nearly 50 years.
Laxman's signature Common Man - "bald and bespectacled, his bulbous nose propped over a bristly moustache …with a permanently bewildered look and dressed in a dhoti and a checked-out coat" - was the most famous character in Indian cartooning.
Laxman was a big admirer of British cartoonist David Low. He says the "strangest moment" of his life happened in 1952 - he had already worked for five years with the Times of India as its political cartoonist - when he found Low and his wife sitting in his office.
Low was on his way to Hong Kong to visit his daughter, and his ship had docked that day at Bombay for a few hours. So the couple got off the ship and strolled to The Times of India building to meet him. Laxman took the couple on a sight-seeing trip.
During a trip to England, Laxman met Graham Greene, who was friends with his brother, the celebrated Indian writer RK Narayan. The two spoke on India, before the "topic turned to astrology, palmistry, horoscopes".
"Before I left that evening, Greene made a strange request. He wrote down his date and year of birth and asked me to have his horoscope cast when I returned to India, and to send him the chart," Laxman wrote in his memoirs.
In return, Greene fixed him an appointment with poet TS Eliot. Laxman had earlier called Eliot at the office of Faber & Faber, his publishers, and had failed to get an appointment. His secretary had replied, "Mr Eliot does not receive calls. Mr Eliot does not receive visitors. Mr Eliot does not give interviews either."
Laxman met Eliot, and painted a pencil sketch of him even as the poet went off to sleep. When he woke up, the poet signed the sketch cheerily. But Laxman said he failed to get Greene's horoscope done. "I feel deep guilt and shame when I think of him," he said later.
Another highlight of his London visit was a meeting with Bertrand Russell.
Laxman described the philosopher-mathematician as a man "full of sparkling wit, anecdote and aphorisms". Laxman had already illustrated many of his short stories published in The Times of India. After cracking a joke with his Indian guest, Laxman remembered him "smiling triumphantly, his ruffled shock of white hair in a frozen explosion over his head, [looking] like a cockatoo in a devilish mood".
Laxman was offered a job at the Evening Standard, he said, in the place of David Low who had moved to the Daily Mail, but rejected it after some thought. "The conformity and uniformity of that country's [Britain's] social life and the propriety in political conduct would have reduced me to a mediocre illustrator of events," he wrote.
For the rest of his life, he worked with The Times of India, becoming one of the most vivid chroniclers of post-Independence India.
Cartoon courtesy of The Times of India Group. Copyright: Bennett, Coleman and Co Ltd. All rights reserved.