Indian media pay tributes to legendary cartoonist Laxman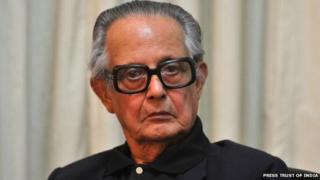 Indian papers, artists, politicians and journalists have been paying rich tributes to legendary cartoonist RK Laxman.
He died on Monday in a hospital at the age of 94.
Laxman created the iconic character of "Common Man" who lampooned politicians, prime ministers and celebrities, and remained popular with millions.
"The creator of the Common Man made millions of our readers smile every morning, but more importantly he captured the mood of a nation in the space of a small single column," writes Dileep Padgaonkar, former editor of The Times of India.
Mr Padgaonkar says Laxman was sharp in his satire, but never toxic.
Laxman's death has come days after a brutal terror attack on French satire magazine Charlie Hebdo over its portrayal of religious figures.
But the former editor says that Laxman was always careful about what he sketched.
"While he was convinced of the therapeutic values of satire, caricature and lampooning to sustain the health of a democracy, he was equally clear that these 'medicines' must be administered in careful doses so that they do not produce toxic side-effects," Mr Padgaonkar adds.
Not slapstick humour
Many say the legend's brilliance will remain etched in the collective memory of his faithful readers.
Senior journalist Rajdeep Sardesai, who worked with Laxman at The Times of India, feels the cartoonist remained humble throughout his life.
"He never ridiculed anyone; his cartooning skill was based on capturing the simplicity of life, not slapstick humour but truly located in the many ironies of public life," he writes in his tribute piece.
Mr Sardesai adds that Laxman picked topics that mattered to common people.
"A pothole not repaired for years, a broken telephone line, a politician who kept cash under the table, or most famously, [ex-PM] Indira Gandhi taking son Sanjay in a pram, Laxman's cartoons were funny but never offensive," he adds.
For Meena Menon of The Hindu, Laxman's "humour did not always make you laugh: it was often grim, ironic, and impaled politicians for their generally corrupt and exploitative ways".
Meanwhile, many personalities from the world of arts, cinema and politics, including PM Narendra Modi, paid tributes to Laxman on Monday.
"India will miss you RK Laxman. We are grateful to you for adding the much needed humour in our lives & always bringing smiles on our faces," Mr Modi tweeted.
And finally, The Times of India pays tribute to its former cartoonist in this picture gallery of his works.
Smart cities
Moving on to other news, the US has promised to help India develop three "smart cities" as part of President Barack Obama's effort to boost ties between the two nations, reports say.
The three cities chosen are Ajmer in Rajasthan, Allahabad in Uttar Pradesh and Visakhapatnam in Andhra Pradesh.
The state governments signed an agreement for the development with the United States Trade and Development Agency on Monday, the Economic Times reports.
Indian Prime Minister Narendra Modi has repeatedly emphasised on his desire to develop 100 "smart cities" in different parts of India during his speeches.
Mr Obama will conclude his three-day India visit on Tuesday. He attended India's Republic Day celebrations on Monday.
BBC Monitoring reports and analyses news from TV, radio, web and print media around the world. You can follow BBC Monitoring on Twitter and Facebook.