India sex-test ad ban for tech firms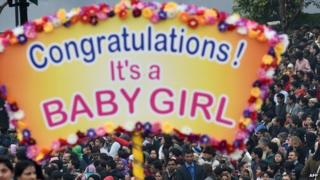 India's Supreme Court has ordered internet giants Google, Yahoo and Microsoft to block adverts for pre-birth tests that reveal a child's sex.
Such adverts are illegal in India because of the widespread underground practice of aborting female foetuses.
This has led to a skewed gender ratio in much of India.
The court was responding to a petition that noted that gender-test adverts are displayed on major search engines despite being illegal.
Google and Microsoft had argued they were not advertising anything that violated Indian laws.
The court said it would give a more detailed ruling in two weeks.
Technology writer Prasanto K Roy told the BBC that enforcing the ban would be very difficult, if not impossible.
"There are so many ways to get around filters and it will block the genuine stuff. For instance, filters normally would scan the text, but they don't stop graphics and many of the ads would have only graphics," he said.
"Also, the only way to find out which ad is about sex determination would be at the stage when they are accepted, but most of the advertisements are automated so they will have to be looked at manually which will mean additional manpower will have to be deployed to do it."
A further problem, he added, was that "these ads could be uploaded from anywhere in the world, targeting a specific geographical location".
India has admitted that its strategy has failed to put an end to the practice of aborting female foetuses.
The 2011 census showed a serious decline in the number of girls under the age of seven, with activists saying as many as eight million female foetuses may have been aborted in the previous decade.
In 1961, for every 1,000 boys under the age of seven, there were 976 girls. By 2011, that figure had dropped to 914 girls.
The 1994 Pre-Natal Determination Test (PNDT) Act outlawed sex-selective abortion. It was amended in 2004 to include gender selection even pre-conception.
In India, abortion is generally legal up to 12 weeks' gestation. Sex can be determined by a scan from about 14 weeks.
There are estimated to be about 40,000 registered ultrasound clinics in the country, and many more exist without any record.